Alan Robert's graphic novel about crazed killers and a voodoo curse will hit the airwaves some time soon.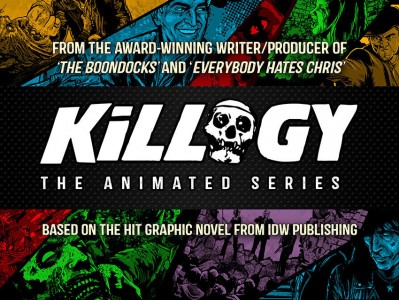 Killogy, if you're unfamiliar with the book, was a mini-series that debuted from publisher IDW in 2013 and become a very highly praised graphic novel that's just now seeing publication outside of the US for the first time. When you hear the story for Robert's work, it's not hard to see why it was so popular. The tale is as wacky as it is disturbing.
Killogy leverages a unique mix of humor,
horror and pop culture to tell the unique tale of a group of murderers who inadvertently unleash an ancient voodoo curse upon New York. "For me, it's all a bit surreal," says Robert. "I basically get to mash-up some of my favorite childhood heroes, throw them into these outrageous situations, and sit back and imagine what happens next. The series practically writes itself!"
Sounds like fun, no? The graphic novel's story will of course be stretched out to fill in a full animated series and, I imagine, tell a much richer story than was possible in the book. Produced by Chris White and Jeff Mazzola, Killogy will be adapted by executive producer and writer Rodney Barnes (who you might know from The Boondocks and Everybody Hates Chris)and creator Robert.

The show will have a great cast too with Frank Vincent, Marky Ramone, and Brea Grant all reprising their roles from the comic (their likenesses were used). There's no date for the animated series as of yet, but with production starting up, it shouldn't be too long before we hear something as to a release date.
In other Killogy news, a sequel of sorts is on the way starring none other than the ex-lead singer of the Misfits, Doyle Wolfgang von Frankenstein. The lead man of the group will have his own likeness used in a one=shot that picks up where the graphic novel left off.
Doyle stars in the book as the last hope for humanity in a world that's been 'flooded by an ocean of blood.' So, you know, just another day for him. In addition to the main story in the special issue, you'll also get a look at the upcoming The Shunned One comic from Robert in the form of a ten page preview.