DoomStone arrives at TRU's everywhere this Tuesday.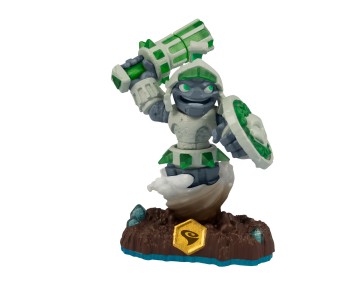 Skylanders completionists take note, the final member of the SWAP Force is on his way to the world's biggest toy store. The character, named DoomStone, has an air-based gimmick and looks to be a whirling engine of stoney destruction for any greebles that might get in his way.
DoomStone is the last and final member of not only the SWAP Force, but also the whole Skylanders SWAP Force collection as the newest game in the series has recently been announced and all things land-in-the-sky related will most certainly be ramping up into that. In case you missed it earlier last month, Skylanders Trap Team will be arriving in stores this Fall and allows gamers to actually trap baddies (a'la Pokemon) and use them against the escapees of Skylands number one prison.
You can read our full preview of Trap Team here, and get ready to complete your collection with some DoomStone action tomorrow (May 13th), at Toys R Us stores.