Just announced at an unveiling event in New York City yesterday, the Skylanders series just got bigger with the Trap Team. The theme of the new set? Bring life to toys.
In Skylanders Trap Team, Kaos continues his ongoing quest to rule over Skylands.  He has discovered the location of the legendary Cloudcracker Prison — a fortress built entirely out of the magical substance TraptaniumTM and home to Skylands' most nefarious baddies.  In an attempt to build his own army of foes, Kaos blows up the prison, releasing the most wanted villains and blasting shards of Traptanium to Earth in the form of Traps.  Now it's up to Portal Masters to recapture all of the escaped villains using powerful Traptanium Traps and defeat Kaos before it's too late! The new adventure delivers a diverse and dynamic story-driven gameplay experience, filled with adventure, combat, puzzles, mini-games, activities, platforming and drop-in/drop-out co-op play — all set within new compelling environments.

Skylanders Trap Team introduces Skylanders heroes known as Trap Masters, brand new Core Skylanders characters and reposed fan-favorite Skylanders characters. The game also features a variety of elementally aligned Traps with unique and interesting designs. With every addition to their Trap Team collection, Portal Masters unlock exciting gameplay possibilities within each level.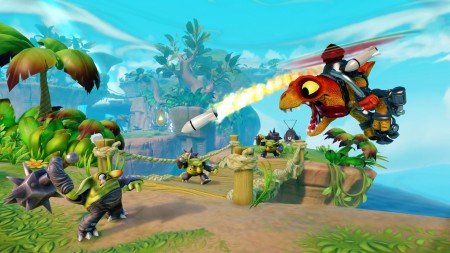 Bringing toys to life has always been the slogan for Skylanders since the first game in the series (Skylanders: Spyro's Adventure) hit the console world back in 2011, but now the series is getting turned on its head and actually allowing players to bring life to toys. How you ask? With traps dear Sky-fan, with traps.
The new trap mechanic brought into the series by returning developer Toys for Bob (akin the reigns back from Vicarious Visions) changes a good deal of what you can expect from a Skylanders game is and is as big a change for the series from Activision as there's been since day one. Using special 'traps' that you buy in the real world, just like you'd buy a Skylanders figure, you can capture villains in the game world and turn them to your cause. You can then use these new characters just like you would a Skylander by placing them in the Portal and switching to them any time- that's the whole idea behind 'life to toys', you actually infuse the traps with digital 'life'.
There'll be 40 bad guys to make good in total with a complete line of new Skylanders figures (including the super-powerful against trappable enemies Trap Masters) topping out at 60, and of course you can still use all your old characters as usual. All together, that's 100 new characters that you can play as in the game, when you count both the physical toys and digital characters you can download into the crystalline traps.
And about those traps; made of traptanium (which I assume is a Skylands-exclusive element), the traps can hold one bad guy turned good each and are coded to the baddie's element, just like all the character figures that you're used to playing with. So basically, if you want to catch the Chompy Mage and use him in the game, you'll need a 'life' flavored trap.
Though there's only one character stored per trap, you needn't fear that you'll have to buy 40 different traps to hold your 40 different bad guys. The all-new Portal of Power (yes, for the second year in a row) can actually hold onto the villains in its 'dungeon' and you can then cycle through them all and load them into the trap of your choosing. In a really cool little twist too, when you have a trap inserted with a badnik installed on it (and you're not using him/her actively in the game) you can actually hear him complaining about not being used through the new speaker that's installed in the new PoP. It basically sounds like the audio that comes out of the PS4 or Wii controller, but is a really nifty addition to an already pretty impressive looking new Portal.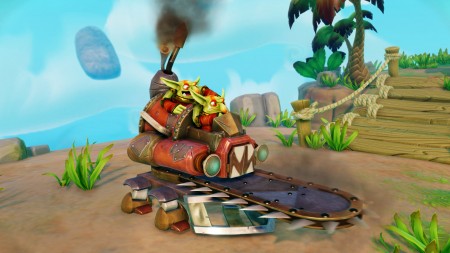 I have to note the figures here to as they're head and shoulders above what came with SWAP Force. I actually think I may have said the same about that game about a year ago, but seriously, every generation of the figures that accompany these games looks better and better. The paint applications are excellent overall and the sculpts, what I've seen of them anyway, are tremendous. The new characters are every bit as whimsical and fantastic as the rest of the designs in the various Skylanders series'.
It seems kind of strange to have the actual looks of the game  last in this article, but then Skylanders is an unusual game with its melding of the real and the unreal. On that though, the series has truly never looked better. If you thought SWAP Force was good looking (and it was), Trap Team is just that much prettier and approaches that magical boundary of actually playing a CGI cutscene even more. Trap Team looks like a cartoon that you can play, and that's just awesome. As a fan myself, with just the smallest of Skylanders figure addictions, I can't wait to actually get my hands on a controller and play.
If that sounds like you too, you won't have to wait too terribly long to dig in as Skylanders Trap Team is scheduled to hit the Xbox 360/One, PS4/3, Wii/Wii U, and 3DS on October 2nd of this year in Australia/New Zealand, on the 5th in the US and on the 10th in European territories. If you're keen on pre-ordering and securing a copy for yourself, you can go ahead and do that right now at "participating retailers".