Big Guy and Rusty the Boy Robot returns to the printed page along with more new stories in Dark Horse Comics' anthology series.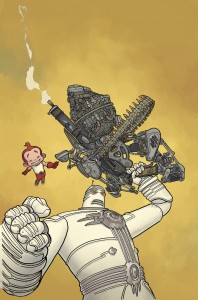 It's been a long while since  Geof Darrow and Frank Miller's Big Guy and Rusty the Boy Robot have graced a comic book. I honestly can't even remember the last time I saw them in a book… early 2000's maybe? Late '90s? In any event, the book will have lots more than the two bots including "Peter Hogan and Steve Parkhouse's Resident Alien, Brendan McCarthy's Dream Gang, Jimmy Palmiotti, Justin Gray, and Andy Kuhn's Wrestling with Demons, Damon Gentry and Aaron Conley's Sabertooth Swordsman, and David Mack's Kabuki."
Dark Horse Presents is a kind of showcase for original tales from some of the biggest talents in comics and has been since its revival last year. This'll be the third issue of the anthology and it looks like the series is still very much going strong with that lineup of talent. Look for Dark Horse Presents Vol. 3 #1 to hit stands at a whopping 48 pages (for $4.99 USD) on August 20th.
If you'd like to read through a special interview about the book, click here for a chat with Geof Darrow and Dark Horse Comics' own Mike Richardson on Comic Book Resources.