The publisher is holding what just might be the last of their 'May the 4th' Star Wars sales.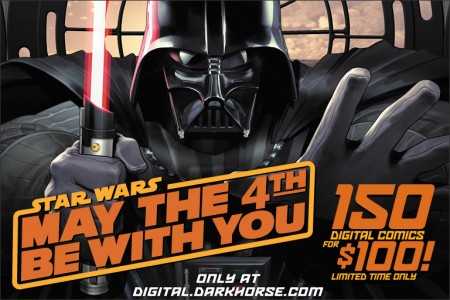 These sales have become something of a tradition and now that Dark Horse Comics is losing their license to publish Star Wars comic books in 2015, well, the May the 4th sale is probably on the way out too. As of now though, they're still going strong with some of the best Star Wars stories that the publisher has ever put out scheduled to hit this year.
And that sale? That's still going strong too, with a pair of megabundles and more all on offer this weekend. Here's what you can expect when you log onto Dark Horse Digital:
The Star WarsMay the 4th MegaBundle places over 3,700 pages of Star Wars comics goodness right at your fingertips.With 150 digital issues for $100, this bundle includes some of our most popular Star Wars series, such as The Old Republic,Crimson Empire, and Dark Times, as well as some of our newest series, such as Darth Vader and the Cry of Shadows and our hit series Star Wars!

The Star WarsMay the 4th Kids MegaBundle features over 1,000 pages of kid-appropriate digital Star Wars titles for only $30! Hit series such as Star Wars Adventures and The Clone Wars will provide hours of summer entertainment for your littleStar Wars fan!

Each MegaBundle also comes with an exclusive digital preview of the upcoming Darth Maul: Son of Dathomir, adapted from unaired episodes of the TV show The Clone Wars! With his Shadow Collective army stalled, Darth Maul calls on Mother Talzin for help and is sent reinforcements—the deadly Nightbrothers! Maul is ready again to take on the Separatist droid army, Count Dooku, and General Grievous in a trio of simultaneous battles!
And if that's not enough Star Wars savings for you, Dark Horse also is having a 50% off sale on their omnibuses and is actually giving away the first four issues each of Knights of the Old Republic, Empire, and Legacy. Not too shabby, and if you're a Star Wars fan who's missed out on a bunch of these, it's a great way to stock up.
The sale is live right now and will run through the May the 4th celebration this Sunday, so best hit the jump to lightspeed and get yourself over to Dark Horse Digital sooner than later.