At the end of one of the most disastrous ages in all of gaming, a load of Atari games and paraphernalia was dumped into a landfill in the New Mexican desert; or so the story goes. Thanks to a documentary film crew that carried out a dig this past weekend though, it turns out that the rumors were more than true.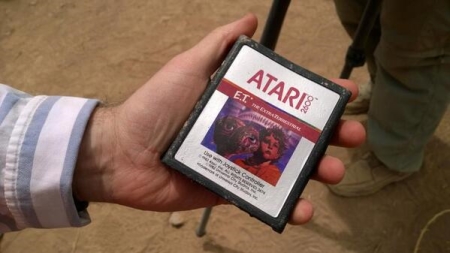 This was actually a hotly disputed event. At the time of the original 'crash' of the gaming industry back int he year 1983, a whole mess of reputable newspapers reported that 14 truckloads of Atari products were to a huge landfill in Alamogordo, New Mexico. They were unceremoniously dumped, quiet frankly, because the industry had taken a severe beating thanks to (among other things) a series of bad business moves by the market leader at the time- Atari.
Bottom line, these things weren't going to sell. Heck, you probably couldn't have paid people to take them home; things were that bad. For me, just a kid growing up in New York, it was actually a windfall. This period led me to get my own Atari console (5200) and a ton of games for ridiculously low prices at y local mall-bound KayBee Toys (remember them!?). I distinctly remember going to the mall with my mom and getting several games in a clip since the prices were so low. I mean, we're talking a few bucks a pop here.
What was great for me (and I assume a bunch of other kids), wasn't so great for the industry in general though. As I said above, it was kind of over for gaming till Nintendo single-handedly resurrected it and sent it on the path of transcendence into a real entertainment powerhouse that it's become today. Back in '83 though, things weren't so good, which leads us back to those carts and the high-desert.
Shortly after the story originally broke, several Atari employees came forward to debunk it. According to an IGN report, people like (ironically enough) ET programmer Howard Warshaw said that no such thing happened. Well, guess what? It happened all right. An independent documentary film crew headed up by Avengers and X-Men 2 scribe Zak Penn, has found the goods, and they are plentiful.
According to reports on the matter, the crew found Atari games, instruction booklets, catalogs and yes- that famous game. In the hundreds. No longer a myth, the ET game debacle can finally take its place in the pantheon of bad business decisions and in the history books of an industry that's become a global phenomenon.
Now that I think about it, I never actually played ET. I wonder where I could get a cheap copy…
Source: IGN