Some new screenshots of Oddworld New 'N' Tasty have surfaced. From the looks of it, this is sure to be a remake that will impress.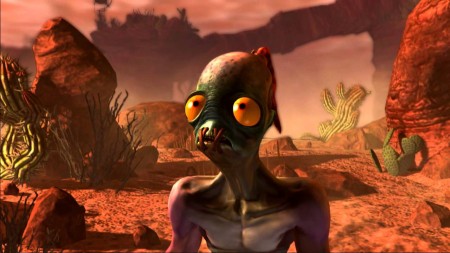 Oddworld was originally released in 1997 for platform's such as the PlayStation and Game Boy. The gameplay is a mix of platforming and puzzle solving; you control the protagonist of the game, Abe, and caerfully navigate your way through some pretty challenging levels. The remake is true to the nature of the original game, with everything you loved about it intact. The beloved Gamespeak feature is still intact, allowing you to control various Mudoken in the game, commanding them to do your bidding. The aesthetics themselves as impressive as ever; the new coat of paint that Oddworld has been given is gorgeous.
Lovely use of colors and atmospheric design bring Oddworld to life in ways you would never experience on the hardware it was originally released for in the 90s. Some of the environments and the way they're crafted remind you of the newer Rayman games, only in a 2.5D perspective. It's nice to see some developers in this day and age put ample effort into 2D platformers. Needless to say it's a genre that hasn't been handled very eloquently as of late. It's long since missed a much needed breath of fresh air, as the market gets flooded with every poorly made indie platformer under the sun. The new Oddworld definitely helps to reignite the flame that the genre once had in the 80s and 90s.