I think this might be a first- an 18 piece cover build able by picking up all the variant covers for Armor Hunters.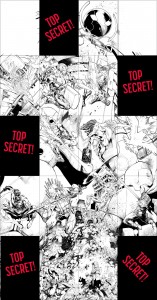 Leave it to Valiant to innovate and actually have fans make what amounts to an oversized poster out of a bunch of individual comics. The book taking part in the promo are all 18 installments of the Armor Hunters crossover set to debut this Summer from the publisher and are very limited in release. No really, very limited.
I mean it, there are only like 6 places in the entire world where you'll be able to get your mitts on the issues in question before they hit the secondary market and probably blast through the roof in price. Fortunately for me, there's one in New York. Check out the list below and see how your neck of the woods fared:
DCBS
www.DCBService.com
[email protected]
10202-C Coldwater Road
Fort Wayne, IN 46825

Graham Crackers Comics
GrahamCrackers.com
At all 9 locations in Illinois!

Laughing Ogre
www.laughingogrecomics.com/wordpress/
At all 3 three location in Virginia and Ohio!
(703) 437-9530
(703) 250-6479
(614) A-MR-OGRE

M & M Comic Service
www.mmcomics.com
830-438-6131
[email protected]
3128 Hidden Haven
San Antonio TX, 78261

Midtown Comics
www.midtowncomics.com
[email protected]
212-302-8192
800-411-3341

Mile High Comics
www.milehighcomics.com
[email protected]
1-800-676-6423
(303) 455-2659
4600 Jason Street, Denver CO, 80211
The connectable-cover is meant to convey the size of GIN-GR, the biggest of the Armor Hunters and, I assume, one of the biggest threats to ever face the Valiant Universe's version of Earth in general.
"As soon as we saw Clayton Crain's amazing character designs for GIN-GR, and the rest of the Armor Hunters, we knew that this was going to be an enemy and a crossover unlike anything else in comics. But we also wanted to present it in an equally bold manner on the shelf. When it comes to the biggest story that Valiant has attempted to date, what could be more appropriate than the world's biggest cover?" said Valiant Publisher Fred Pierce.
Armor Hunters starts off in June, if you want in son the mega-cover, don't miss an issue by checking the official checklist to the right. This is going to be a big one…