To celebrate the digital comics distribution service turning three magical years old, Dark Horse Comics is starting up a special sale and awarding fans who download some 'books' an iPad a day.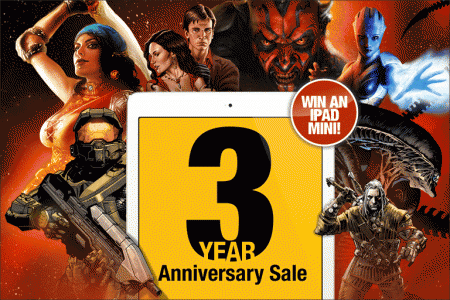 It's hard to believe, since its really become an institution of comic book downloading, but Dark Horse Digital only debuted on April 27, 2011. In that short three year span, the service has played host to new comic book releases and tons of back issues of Dark Horse's best. Thousands of comics currently call the service home and the publisher is constantly adding new books each week and stretching its digital back catalog as well.
Bottom line- its been a hit and a success for the company. So much so that Dark Horse is throwing a little celebration for themselves, with you the readers as the recipients of some very nice little bonuses. Starting tomorrow and running through the 27th (Sunday) at midnight PST, you'll be able to score 50% off on all purchases made through the Dark Horse Digital store.
And if you're a Dark Horse Digital newsletter subscriber? Well, you're going to want to watch your email as you'll be getting a special code for an additional 10% off your total purchase through the online storefront. Yes, I said additional, which means that the 10% will stack with the 50% for a total of 60% off your buy. That's a massive discount and certainly lends to some serious back issue gap-in-the-collection filling.
That's not all either as I did say something about an iPad. Dark Horse Digital will be giving away one iPad Mini per day of the sale for a total of three winnable iPads for anyone who downloads a comic in that span. All you need to do is download, you don't even have to buy as Dark Horse has over 50 comics up for download on the storefront for free. Yep, no purchase necessary for this one.
You can get to Dark Horse Digital either online, or through the iOS or Android apps and any way'll win you the discount and enter you into the iPad giveaway.