Liam Neeson's latest action/thriller will be making its way to digital formats next month and DVD and Blu Ray in June.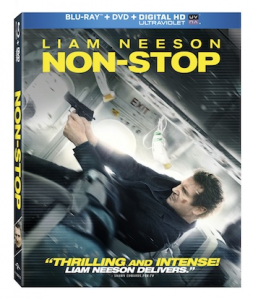 The Universal Pictures film, starring Neeson and co-starring Julianne Moore and Michelle Dockery, opened earlier this year and stars the action-film vet as an Air Marshall on a flight across the Atlantic. The kick comes when Neeson is sent a threatening message followed by a steady string of passenger deaths. Just how someone is able to off people at will in the confined quarters of a passenger jet is half the mystery, the other half comes in the form of the thought that anyone would have to be insane to mess with Neeson.
Seriously, he's become basically the 21st century equivalent of the big action stars of the '80s, just brainier and probably a lot more relatable. The Jaume Collet-Serra helmed film will be arriving in all its glory and with exclusive extras depending on which version of the film you buy in for.
The Blu-ray™ Combo Pack includes a Blu-ray™, DVD, DIGITAL HD with UltraViolet™.

·       Blu-ray™ unleashes the power of your HDTV and is the best way to watch movies at home, featuring 6X the picture resolution of DVD, exclusive extras and theater-quality surround sound.

·       DVD offers the flexibility and convenience of playing movies in more places, both at home and away.

·       DIGITAL HD with Ultraviolet™ lets fans watch movies anywhere on their favorite devices. Users can instantly stream or download movies to watch on iPad®, iPhone®, Android™, smart TVs, connected Blu-ray players, game consoles, and more

Bonus Features Exclusive to the Blu-rayTM:

Non-Stop Action – How do you create exciting and original action on a 20' by 30' set the shape of a tube?    Director Jaume Collet-Serra, stunt co-coordinator Mark Vanselow, producer Joel Silver, and star Liam Neeson discuss the film's visceral action sequences.
Blu-rayTM and DVD Bonus Features:

Suspense at 40,000 Feet – Journey behind the scenes with Liam Neeson, Julianne Moore, director Jaume Collet-Serra and producer Joel Silver as they discuss the making of Non-Stop and the film's suspenseful story.
Expect to see Non-Stop arrive on digital download storefronts on May 27th and in stores (as both DVD and Blu Ray formats) on June 10th.