Dark Horse Comics newest Star Wars title shows Han Solo at his smuggler best.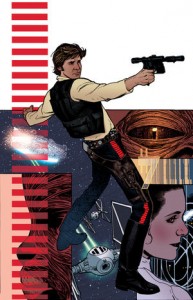 A young Rebel meets one of the Alliance's best for his first mission. But the young man's hero worship is crushed by the reality of Han Solo. A botched escape, a ship that doesn't work—could it be that Solo is just a lucky bumbler whose luck has run out?
Pretty much all I had to read about this one to get excited was that Matt Kindt is the writer behind it. I'm a big fan of Kindt's from not only his Dark Horse series, Mind MGMT, but also his incredible work in Valiant Comics and with DC as well, where he has a pretty terrific track record.
Aside from Kindt though, there's actually a lot to like about Star Wars: Rebel Heist- especially if you're a longtime fan of the Galaxy Far, Far Away. Here in the final year of Dark Horse's publication of Star Wars books (it reverts to Marvel Comics in 2015), the publisher is taking a few chances and putting out some very cool stuff like this.
Featuring the heroes of the Rebel Alliance, Star Wars: Rebel Heist stars an unknown character, a young rebel soldier that we'll be seeing the story through the eyes of. First up, is one of the biggest and well known heroes in the franchise in Han Solo.

This isn't your usual story of daring do though. Han isn't portrayed as the rough and tumble hero that he usually is in the book. No, Rebel Heist stars a character with some serious flaws as seen by the Rebel 'everyman' that's in the starring role. That's always how I've viewed Han as a character; an almost over-confident man who's luck sometimes takes over in situations that he's probably got no business actually getting out of unscathed. It's one of the most fun things about him to me, and I love the idea that that's the idea Kindt has run with for Rebel Heist.
We've got a special strip-style preview of the first issue of the book in the thumb to the left, so have a click and see what's coming up for one of the best known characters in the Star Wars Universe. You'll be able to check out the full book when the first issue of Star Wars: Rebel Heist hits the racks on April 30th from Dark Horse Comics.