Fans of Steve Niles (30 Days of Night, Criminal Macabre) take note, you have a new monthly to add onto your pull list this Fall.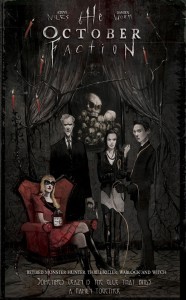 The October Faction is one part Addams Family, one part Van Helsing, and all Niles special brand of weird.
"The lead character is Fredrick Allan, a retired monster hunter who is now teaching Monsters & Mythology while he hides from 30 years of enemies. His heyday was in the 70's, so October Faction will flashback to those 70's monster hunting days," said series writer Niles, "The main thread is about this man who is trying to get to know his family for the first time ever. Unfortunately, while he has neglected his wife she's become a pill-popping thrill-killer. His two children, just turned 19 and 20, are starting to piece together who their father is and also whether or not he is their real father."

"After writing mini-series for the better part of 25 years, I am thrilled to be writing a monthly ongoing and all the more thrilled it's with IDW," added Niles, "October Faction will be Halloween every month if Damien and I have anything to say about it."
IDW credits Niles with being instrumental in bringing horror back to the fore in comics and I don't think anyone would disagree at all. I'm a huge fan of his work on Criminal Macabre, and The October Faction looks like it'll be carrying much of the oddball sense of humor and dark horror that makes that book so much fun. Just the idea of a retired monster hunter as a teacher sounds awesome, let along all the little extra stuff thrown in about his kids and the enemies he's made along the way that he'll constantly be on the lookout for.
Monthly Halloween? Yes please; catch the Allen family's adventures monthly from Niles and artist Damien Worm as The October Faction #1 lands at your local comic shop this coming Autumn from IDW-  just in time for the big day.