Publisher IDW sends the Ninja Turtles through time with the new Turtles in Time mini-series.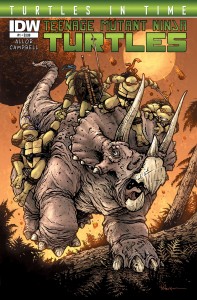 Not based upon the classic arcade game of the same name, Teenage Mutant Ninja Turtles: Turtles in Time from IDW and the team of Paul Allor, Erik Burnham, and Ross Campbell (with cover art be David Peterson), will be sending the heroes in a half shell on a trip through the ages. The teens will face off against "dinosaurs, pirates, and samurai warriors" as the continuity of the already rich universe that Kevin Eastman and Peter Laird created back in the '80s is expanded even more.
Time travel is definitely an 'out there' premise for the crew of hard-nosed NYC mutants, but the TMNT seem to be right at home in just about any setting. Actually, for a group of superheroes who hang out in the sewers and have gone to other planets and alternate dimensions, the weirder the better.
"I love time travel stories, and I love seeing the Turtles outside of their comfort zone," says co-writer Burnham. "So basically, this is the most fun I've had in the TMNT sandbox yet!"

"I am so excited for this story!" added co-writer Allor. "I'm blown away by the artists we have lined up, and I truly think readers are going to love this wild, rip-roaring journey through time."
Look for the TMNT: Turtles in Time mini-series to land n the racks some time this year.