The futuristic, cyber-hero ongoing series will kick off with issue #1 just in time for Free Comic Book Day.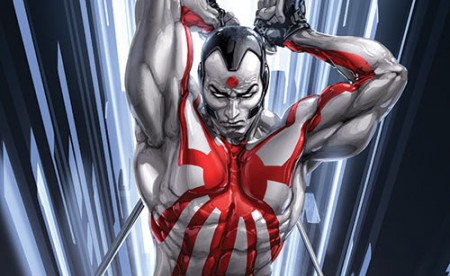 Valiant Comics is no strayer to the comic book 'holiday' and this year they'll have one of their 2014 headlining books on sale to celebrate all the free comic bookiness.
"Free Comic Book Day has been a major component of Valiant's success since our return, and we always like to make sure that our retail partners are adequately equipped for the single biggest day of foot traffic in stores across the world," said Valiant Publisher Fred Pierce. "Moving the release of Rai #1 up to April 30th is the perfect way to ensure that local comic shops shops can get the jump on the launch of the Valiant First initiative, and introduce as many fans as possible to the stunning world of 41st century Japan as realized by two of the most phenomenally talented creators working in comics today."
Bumping up the book's launch a week to take advantage of one of the biggest comic book shopping days of the year definitely makes sense. You're looking at a day where you'll have tons of fans in stores that you mgith not see all in one place so often.
And while Rai #1 isn't going to be a free offering, the publisher will have the Armor Hunters FCBD 2014 Special waiting for fans. That book will give you a taste of not only the forthcoming Armor Hunters, but also the Valiant 4001AD universe of which Rai is a part.
Valiant is going all out on this one too and staying true to the roots of the future-era that first arrived in the 1990's version of the Valiant U, while at the same time offering something very new and just as gritty as the rest of their stable of comics.
This summer, Matt Kindt and Clayton Crain's one-of-a-kind adventure proves that there is nothing else in comics like RAI! The year is 4001 A.D. – led by the artificial intelligence called "Father," the island nation of Japan has expanded out of the Pacific and into geosynchronous orbit with the ravaged Earth below. With billions to feed and protect, it has fallen to one solitary guardian to enforce the law of Father's empire – the mysterious folk hero known as Rai. They say he can appear out of nowhere. They say he is a spirit…the ghost of Japan. But when the first murder in a thousand years threatens to topple Father's benevolent reign, Rai will be forced to confront the true face of a nation transformed…and his own long-lost humanity…
Sharpen those swords, Rai #1 arrives at retail on Free Comic Book Day 2014- April 30th.