Underground will pick up the story of battle-weary Jack Bauer right after the close of the seasonal TV show and will lead straight into the beginning of this year's Live Another Day event on Fox.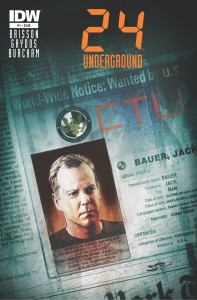 Coming out of the mind of writer Ed Brisson and from the talented pencils of Michael Gaydos, 24: Underground already has the chops to make fans of the long running TV series happy. Both men have experience in the 'espionage' genre after all with Gaydos working on Atlas and Brisson having written Secret Avengers.
"Ed burst onto the comics scene with the sci-fi thriller 'Comeback,' which was heavy on plot and adventure, a style that fits nicely with an established property such as '24,'" editor Denton J. Tipton says. "We've paired the rising star with veteran artist Michael Gaydos, whose draftsmanship and storytelling skills are second to none. Buckle up for a high-octane tale of Jack Bauer's missing years!"
Underground will, of course, be much more grounded than either of those two series and will follow Kiefer Sutherland's super-popular black ops soldier Jack Bauer between happenings in the series and 'TV event'. This won't be publisher IDW's first go-around with the character either, as they've put Mr. Bauer through is paces in the past, and are itching to do so again.
"'24' was one of IDW's earliest successes with licensed comics," says Greg Goldstein, IDW President and Chief Operating Officer. "And the show's stature has grown immensely since then. Returning to the world of '24' in comics, in conjunction with this highly anticipated return to TV, makes perfect sense."
Look for 24: Underground to hit the racks very soon with the TV premier of 24: Live Another Day coming this May the 5th on FOX with a two-hour premier at 8pm before settling into it's Monday at 9pm slot the very next week.