Classically styled, retro, and 3 & 3/4 inch tall, these are just about as awesome as a Twilight Zone toy can get.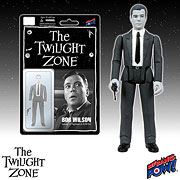 Imagine if Kenner had made Twilight Zone toys back in the '80s. Made just like the Star Wars figures of old, there'd be offerings from all the big episodes and featuring all the biggest guest stars and characters like one William Shatner. Well, now you can stop imagining because that's just what Bif Bang Pow!, ZICA Toys, and David Lee have done with the new series of Twilight Zone Action Figures that'll be up for sale at online retailer Entertainment Earth.
"We're excited for our Twilight Zone action figures to be the first Bif Bang Pow! property to 'enter another dimension' in 3 3/4-inch scale," said Jason Labowitz, President of Bif Bang Pow!. "It's been great to work with a notable company like ZICA Toys to create these action figures for avid fans and collectors of the celebrated TV series."

"ZICA Toys is very excited to be working with Bif Bang Pow! on their new lines of retro 3 3/4-inch scale action figures," said Craig Owen, Owner of ZICA Toys LLC. " They've got some really great properties planned for this format, and I'm looking forward to helping them make some very cool stuff!"
You can expect to see figures of the aforementioned Shatner from the episode "Nightmare at 20,000 feet", a Kanamit from "To Serve Man", an Invader from "The Invaders" episode, bookworm Henry Bemis from "Time Enough at Last", and that creepy little doll, Talky Tina herself from the "Living Doll" episode. All in all, that's a terrific lineup and should make fans pretty happy.
The figures are sculpted and deco'd in black and white to reflect the famous show's presentation, though Bif Bang Pow! will also be offering a color series that'll be extremely limited in release at some point. Each figure is expected to retail for $9.99 USD and all of them should be out by this August. You can preorder yourself a set or buy 'em singly, right here at Entertainment Earth.