Military charitable group Operation Supply Drop is launching their latest 8-bit Salute this may, and this time they've got some big time backup in the form of Naughty Dog, Wargaming America and more.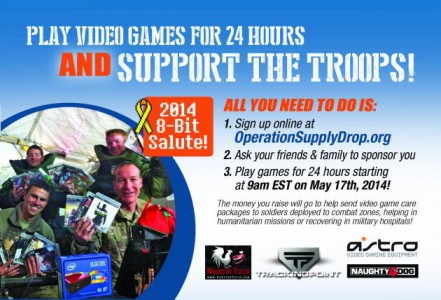 The third annual fundraising event for US armed forces, the 2014 8-bit Salute will take place this May, across the 17th and 18th of the month. The goal of the event is the same as it always is- to raise funds and bring a little sunshine into the lives of soldiers already deployed to combat zones across the globe and those who are in military hospitals recovering from injury.
In either case, it's a position that the men and women of the armed forces don't exactly find 'fun'. Operation Supply Drop does;t like that situation one bit and so they've pledged to bring some happiness and a little video gaming joy to some of the people who need it the most. If you've followed our coverage of Op Supply Drop in the past, then you already know the incredible amount of good that they've done, 8-bit Salute 2014 is the next step on that path.
In this upcoming event, the team at Operation Supply Drop will have Rooster Teeth, Wargaming America (World of Tanks), headset maker Astro Gaming, and Naughty Dog in their corner.
"Rooster Teeth is excited to grow the partnership we have with Operation Supply Drop as well as provide assistance to those who dedicate themselves to serving our country," Rooter Teeth co-Founder Gus Sorolla, said. "Now that Operation Supply Drop has a local presence in Austin, we look forward to further collaboration."
All of the above companies have pledged their "support" and will be fielding teams of fundraising troops of their own, all operating out of the all-new Operation Supply Drop website that you can get to by clicking here. If you can, think about donating something to the team, they've done a whole lot of good in the last few years and amassed over $700k in games and gear and brightened the day of some 2,500 US servicemen and women.