The classic Star Trek episode first aired back in 1967, but it become one the most talked about installments of the original series ever. Now publisher IDW is set to release an adaptation of the original (uncut) teleplay as a five-part mini-series.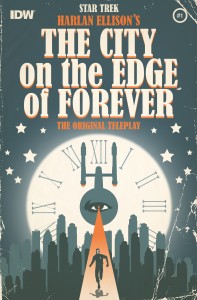 There are a few episodes of the original Star Trek that stand out form the pack as all-time greats and City on the Edge of Forever is most definitely one of them. The episode takes Kirk, Spock and the crew of the Enterprise through a bizarre rift in time and space, all the way to 1930's America for a saga that's equal parts love story as it is action/adventure.
Originally, writer Harlan Ellison's teleplay was edited to fit the show, but here in all it's glory is the actual story; complete and uncut.
"Presenting Harlan Ellison's brilliant original script for 'City on the Edge…' has been a goal of ours since IDW first began publishing Star Trek comics in 2007," said series editor and IDW Chief Creative Officer/Editor-in-Chief Chris Ryall. "The episode justifies its position atop 'best Star Trek episodes' lists but even it ain't nuthin' compared to what Ellison did in his original teleplay. This is truly going to be a Star Trek adventure unlike any other, even to fans who have that beloved episode memorized."

Harlan Ellison says: "It was a superlative joy of my long life to have worked with Leonard Nimoy, who became my friend, and many others at Star Trek; and an equally heart-happy joy to be working with J.K. and the Tipton Bros. and Chris Ryall on this long-awaited visual of my (humbly, I say it) brilliant original 'City…'"
Even cooler than just it being the first and intended story, is that Ellison himself (an all time great of an author) has overseen the adaptation. While he's overseeing though, Scott and David Tipton are working as the actual writers of the mini-series with interior painted (!) artwork coming from the brush of J.K. Woodward. Oh, and that incredibly cool cover to the right? That's courtesy of the amazing Mr. Juan Ortiz, who's eye for period design can currently be seen in a complete hardcover album of his interpretations of every single original series episode called Star Trek: The Art of Juan Ortiz. Yep, he's got a whole book named after him- he's that good.
Star Trek: Harlan Ellison's Original City on the Edge of Forever Teleplay #1 (of 5 parts) should be hitting comic shops in June. If you're a fan, you don't want to miss this one.