Nintendo's big ape returns for more banana-fuled action, this time with a frozen twist.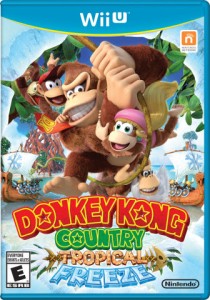 Donkey Kong's first outing on the Nintendo Wii U follows up on the fantastic 3DS port of the Wii's Donkey Kong Country Returns from last year. This time around there's plenty of new elements for longtime fans of the series to peel into. Included in Tropical Freeze are not only Donkey and Diddy as playable characters, but also Dixie and Cranky too- the ape with the funktastic style Funky Kong even makes an appearance and can supply you with goodies for sale from his shop. The elderly Cranky, who usually is in Funky's place in these games and mans the store, will be playable for the first time too, which is pretty cool. Even better- he hops on his cane to get over spikes just like another classic character you might know.
All the classic DK abilities, elements and friends like Rambi the Rhino will be in here too, so you should feel right at home in what's now the frozen jungle thanks to the games main baddies, the conquering Snowmads. Nintendo is promising tons of variety in this norse-themed game too as "no two levels are the same" throughout the adventure. And in a cool little side-note, composer David Wise makes his return to DKC (he did the original) to provide the score.
Look for Donkey Kong Country: tropical Freeze to be in stores starting tomorrow (February 21st) from Nintendo, exclusively for the Wii U.