As publisher Atlus points out; this one's got it all – "Anime Cutscenes? Check. J-Rock Guitar Power Chords? Check. Family Planning? Check."
This is the first little tease at what Conception II actually looks like in action on the Nintendo 3DS and PS Vita and it definitely looks like Atlus and developer Spike Chunsoft are cooking up something special for JRPG devotees. Not only does the game sport some rockin' tunes (which you can nab on disc as a bonus if you pre-order) and plenty of very solid looking traditional RPG/dungeon crawling action, but there's also that interesting Star Children system.
More than a little tongue-in-cheek, the Star Children are created when your character "combines" his powers with the game's heroines. An act that's accompanied by some… interesting cut-scenes. It's one of the more unique features of the game and adds in an interesting new mechanic o the tried and true formula that you're probably very used to by now. The artwork is also pretty great, especially in the fully animated scenes, and fans of anime should feel right at home.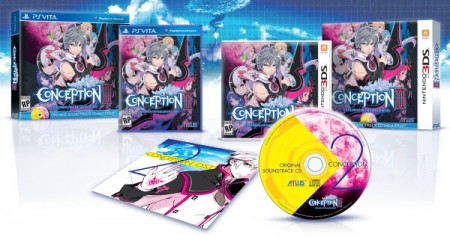 Conception II launches on April 15th for both the Vita and the 3DS with the special Collector's Edition of the game that you see above available only if you plunk down some cash for the pre-order.