If you're a Lord of the Rings fan, the game of your dreams might have finally arrived. Check out 8 minutes of solid gameplay from Middle-earth: Shadow of Mordor and all-new details revealed by Game Informer.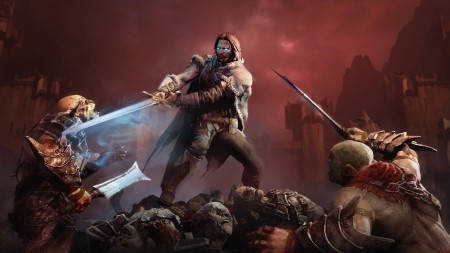 Visceral, dark and with an unmistakable LotR feel to it, Shadow of Mordor is a third-person action adventure with a stunning graphics engine laid over it. Heavily influenced, as GI points out, by the Batman: Arkham games and the Assassin's Creed series, the game casts you as a ranger named Talion.
Slain (along with his family) when Sauron and his murderous group returns to Mordor before the Lord of the Rings film and book series starts, Talion is raised from the dead and possessed by a Wraith seeking vengeance against Sauron and the dark realm he comes from. Since the two characters have pretty much the same motivation, it's kind of a match made in heaven. Or hell. Whatever.
The new 8 minute trailer shows pre-alpha footage (remember that when you're watching) and shows a mission that sets Talion to task taking down a few enemies that he's met earlier in the game. Relationships, including those forged between the ranger and his enemies, are a huge part of Shadow of Mordor, as is the ranks and file of Sauron's army.
All of this taken together and mixed in with Tolkien's super-deep lore makes for an impressive presentation to say the least. Middle-earth: Shadow of Mordor is still a ways off to, so the title is only to get better looking and sounding here in it's development.
Middle-earth: Shadow of Mordor is scheduled to hit the Xbox One, PS4, PC, Xbox 360 and PS3 sometime this year from Warner Bros Interactive and developer Monolith Productions.
Source: Game Informer