The biggest digital comic book download platform puts Valiant Comics' "Must Read" titles on sale for January- with a twist.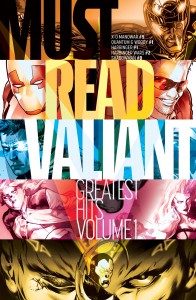 Must Read Valiant is the publisher's newest initiative to get new fans on board with its excellent lineup of superhero comics. Basically, these are 'jumping on' points we're talking about here. If you don't know what a jumping on point is, well it's a comic designed to be a continuation of the character that existing fans already love and are into, but also a book that's open and accessible for new readers who'd like to see what all the fuss is about.
For their part, comiXology is firing up a sale that's tied into the promotion in a couple of ways. January will see three books launch under the Must Read Valiant heading and the publisher wants to know what your favorite Valiant moments (from the 'modern era') are. All you need to do is to point your browser over to website Comic Vine any time from now till January 7th to take part.
There you'll take a quick poll where you'll tell the tale of your faves which'll lead into the January sale. At the end of the (north)polling, all the votes will be tallied and the top books will then be added to the oncoming sale, which'll kick off on January 14th and see prices for the ranked comics fall to .99- which is perfect for this looking to beef up their digital Valiant collection.
Also out on January 15th is a special compendium of the best of the best that the publisher offers entitled Must Read Valiant: Greatest Hits #1. This book is packed with the biggest single-issue stories from the relaunched comic universe's first year and some months in publication. If you're new to the heroes of the Valiant U, it's a perfect introduction.
And while all this is going on, don't forget that the first batch of actual Must Read Valiant titles will be out and about next month too. If you're looking for those, they're January 8th's Bloodshot and H.A.R.D. Corps #18 ("Get Some" – Part 1), the 15th's Harbinger #20 ("Resistance" – Part 1) and the 22nd's sure to be epic Eternal Warrior #5 ("Eternal Emperor" – Part 1).
If you're lucky enough to get a comiXology gift card for Christmas, make sure you save some e-dough for this one. Valiant's line is way more than worth your time (might I recommend binging on X-O Manowar?).