What exactly Dark Horse Comics has up its sleeve for 2014 as go some of the biggest sci-fi/horror properties in film and comics is still a bit of a mystery, but the new promo image released today sure does whet the appetite for whatever it might be.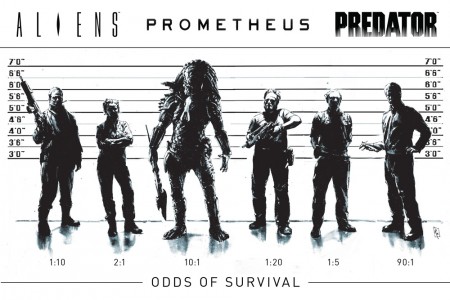 So. Have a look at that.
The top of the image clearly reads 'Aliens Prometheus Predator' with some character art (complete with heights) taking up the midsection and 'odds of survival' scrawled across the bottom. As far as description, that's all we got today from Dark Horse, who seems to be playing this one pretty close to the chest.
Some interesting things to note though; no Xenomorph is seen in the image and there aren't any of the so-called Engineers from Promethius in there either. If you just were to glance at this pic, you might just think that it's an ad for an upcoming Predator comic, but it isn't. Also interesting to note is that the image itself is labeled 'PMT-Teaser-Image'. Personally, I have no idea what that might mean, but the phrase "A universe of terror drawn into one world" was also attached and that's fairly telling.
I actually wasn't a fan at all of the actual Prometheus movie that was released a few years back, but I liked very much where it might be going and what the fleshing out of the long-mysterious 'space jockeys' might hold. If Dark Horse is looking to expand ion that and incorporate it into the Aliens and Predator universe that they already have, sign me up.
So far though, this is all speculation as just what any of this means is up in the air at present. As soon as we get further news on it though, you better believe we'll have it here for you. In the meantime, stay frosty.