Digital comic book powerhouse comiXology is running a promo where you can nab some free books for yourself over the next 11 days.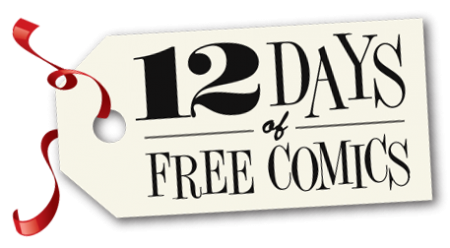 Technically, this was the '12 days of Free Comics' promotion, but we're picking up on it a day late. Still though, there are plenty of free books left to download onto your device of choice. The kick is that you won't know what book is the freebie till the day of, so it's a surprise what you'll be getting and on which day, which is kind of cool. The free book can be from any of the publishers contained in comiXology's storefront -which is a ton- so good luck guessing what's coming next.
As to why hold the promo, it's pretty simple- comiXology had a great year and is giving a little something back to the readers.
"It's been another banner year at comiXology and we want everyone to join us in these 12 Days of Free Comics as we give back to the fans that made this outstanding year possible," said comiXology co-founder and CEO David Steinberger. "From launching comiXology Europe and comiXology Submit, reaching 200 million downloads less than a year after reaching 100 million, and much more, this year has been great – as thanks these free comics are for you."

"Over the course of these 12 days we're making holiday giving easier than it's ever been," said comiXology co-founder John D. Roberts. "These twelve days aren't just to give back to the fans that have made comiXology so great but also to let those fans share the love of comics with everyone they know."
One new comic book will be made available for download each day up till the 20th of December. Check what the current freebie is by clicking here.