The year of Luigi rolls ever onward with a special edition 3DS XL console, complete with a copy of Mario & Luigi: Dream Team.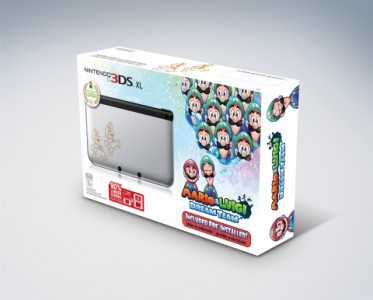 As you can see form the promo shot, the newest 3DS XL bundle to hit the market is branded with the famous pipe-plumbing bros. from their latest adventure on the console- Mario & Luigi: Dream Team.
Mario & Luigi: Dream Team is the well-received fourth game in the fan-favorite Mario & Luigi role-playing series. In the game, players journey into the imaginative dreams of Luigi to help save Pi'illo Island from a mysterious villain. Using the touch screen on the Nintendo 3DS system, players can manipulate a sleeping Luigi to make fantastical things happen in the dream world, such as altering the dream world environment and growing Luigi to gargantuan size.
Other than the brotherly branding, the console also includes a pre-installed copy of the game, as is fast becoming the norm for Nintendo handheld bundles in general.
This latest release joins the ranks of the Luigi's Mansion: Dark Moon 'cobalt blue' 3DS set ($169.99 USD) and the super cool The Legend of Zelda: A Link Between Worlds gold and black system ($219.99 USD) that just hit as well. Mario Bros fans take note, the special Mario & Luigi: Dream Team console is out right now and will cost you $199.99 USD- which is not payable in gold coins or koopa shells.