Nintendo's newest Legend of Zelda title will have its own special 3DSXL when it launches in late November.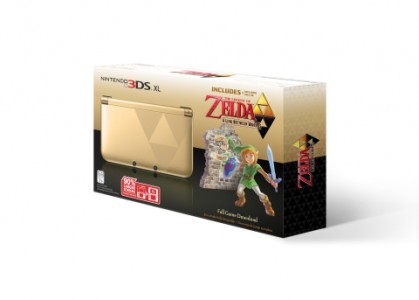 Much like the famed TriForce from the mythical land of Hyrule and the original The Legend of Zelda cartridge from the mystical land of the NES, the 3DSXL that's on the way from Nintendo is pure gold… well, not real gold. But it is gold colored!
This particular jumbo version of the leading handheld console is actually half gold, half black. The dual color scheme is representative of the two different worlds that Link must traverse in the game (Hyrule and Lorule)- and it looks pretty darned snazzy too.
"This beautifully designed Nintendo 3DS XL system continues a tradition that has delighted our fans for decades," said Scott Moffitt, Nintendo of America's executive vice president of Sales & Marketing. "It's a special bundle for a very special video game."
Bundle you say? No, this 3DS console isn't flying solo as The Legend of Zelda: A Link Between Worlds is indeed included in the box. A download code that you can redeem on the eShop is included in the pack, so you can get to playing on your golden new console.
And that's a download you can start on November 22nd by the way. That's when both the stand-alone game and the special 3DSXL box set hit stores.