Order any in-stock item from the company by December 16th and you're guaranteed delivery by December 23rd.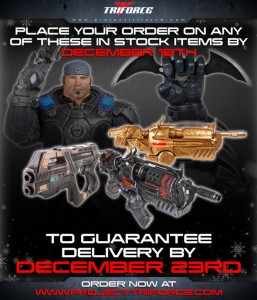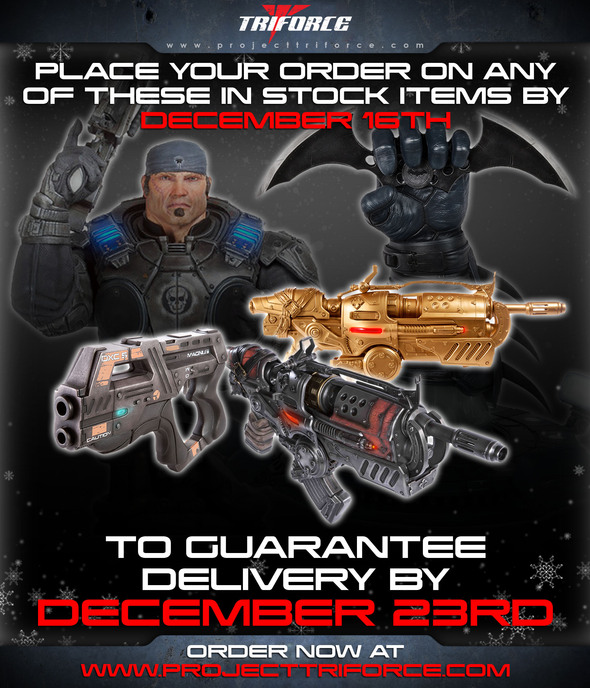 TriForce has some super-cool replicas in stock right now too like the Hammerburst from Gears of War, the Carnifex pistol from Mass Effect, the Batarang from Batman: Arkham Asylum and of course- that rad bust of Marcus Fenix. The company has been making some of the best high-end video game replica weaponry in existence since they opened up shop and if you're a collector or lover of all things game, then you'll be hard pressed to find some cooler kit than what's in TriForce's sleigh.
If you're buying a gift for that special someone, but aren't sure what they're into, don't forget that the company also offers gift certificates for any amount through their online storefront. That's a pretty easy way to give something that they might not even have in stock, as your 'giftee' can pre-order and lock in the scythe or Nightwing Arsenal of their dreams well before release.
We had the chance to see some of TriForce's wares closeup this past Summer at SDCC and again this October at the NYCC- bottom line, this stuff is the real deal and if you've got the cash, it's more than worth adding to your collection. Seriously, don't even get me started on the Green Arrow Arsenal, it's absolutely sick.
And nothing says Merry Christmas like a Hammerburst.