Available right this very minute for pre-order on high-end collectible maker Project TriForce's website is probably the coolest tribute to Nightwing that you're ever going to lay eyes on.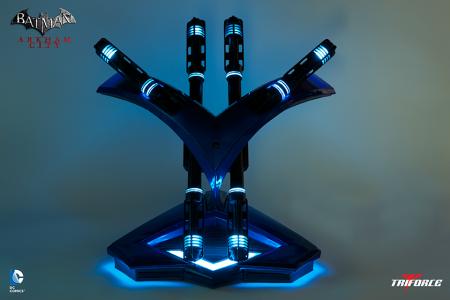 I had the pleasure of seeing this piece all set up and illuminated at the San Diego Comic Con back in July and it's easily one of the best replicas yet to come out of the New York based Project TriForce. The company's awesome attention to detail is already their hallmark, but the detailing and extras included with Nightwing's Arsenal are really something to behold.
Modeled after the Batman's protege as he appeared in the Batman: Arkham City game, this is one Arsenal that comes complete with all the trimmings. Inside the stand are the four (two collapsed, two extended) Escima sticks included in the set, but there are some hidden extras here as well. You'll also also find a replica of the former boy wonder's original Robin emblem, which looks appropriately enough like it's been through a few wars, hidden in a compartment in the base. And that's not all.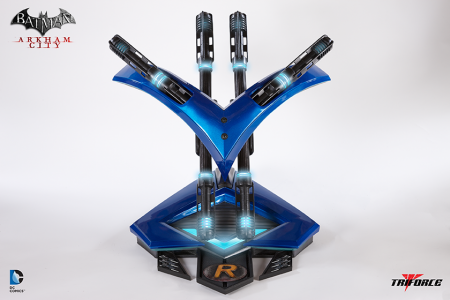 Also secured behind hidden panels are six of the crime-fighter's wrist darts and a note from Dick's mother, addressed to him and written on the back of a Flying Grayson's poster from his circus acrobat days. Oh and did I mention yet that the entire piece is lighted too? Blue LED lights (USB cable and adapter included) are set to illuminate both the sticks and the base, which is modeled to mimic Nightwing's chest and back armor.
The whole thing is cast in polystone, weighs in at 30 pounds and has a height of two feet. It's a big footprint for a beefy centerpiece that any Nightwing or Bat-family fan can really display in a place of honor.
Nightwing's Arsenal will cost you $1100.00 USD and is available now for pre-order direct from Project TriForce, right here.