Kirby's latest adventure on the 3DS has quite a variety of new power ups in it, and some interesting sub-games as well.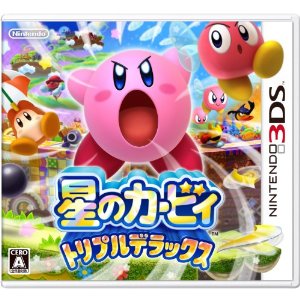 A new power known as "Bell Kirby" appears in Kirby Triple Deluxe. Once Kirby inhales the enemy "Kobi", he attains the bell ability. He dons a bell hat with a star on the front of it, and holds two bells in his hand. As Bell Kirby, you can attack enemies with sound. Another power that will appear in this game is the big bang inhale attack, which functions much like the super inhale does. There are also new sub-games in Kirby Triple Deluxe, one called "Key Holder", which looks to be a mini-game where you're tasked to find a hidden key that one of several Kirbies is holding. Another sub-game has King De De De bouncing on drums which helps him jump high in the air.
Beetle Kirby makes an appearance as well; an ability that you can obtain by inhaling an enemy known as bugsy. This title seems to make extensive use of the 3D features, as you see Kirby exploring both the background and foreground in footage of the game. It will interesting to see what other new ideas Nintendo intends to employ in Kirby Triple Deluxe. Keep your eyes peeled for more information as we inch ever closer to the release date this January.
Source: hatena.jp