Long for the comfort of a 'real' controller while playing your favorite iOS games? Well, there's a MOGA for that.
Android players already know PowerA's MOGA line for their controllers for that OS, which have been out for a while now. iOS gamers on the other hand, have had to make do with third-party peripherals that only work with short lists of compatible titles or the touch screen controls for some games that really don't lend themselves all that well to that mechanic… till now that is. With the dawn of iOS 7, Apple has reversed its long-held stance that the touch screens of its devices were just fine for games and introduced a new compatibility effort to allow for peripheral makers to create 'official iOS 7-compatible' controllers. MOGA's Ace Power controller for iOS is one of the first to take advantage of the new software, and it's pretty darned impressive looking.
"For more than a year, mobile gamers around the world have been discovering the thrill of playing game apps with a MOGA controller," said Eric Bensussen, President of PowerA. "Now MOGA is addressing the two biggest concerns of mobile gamers today – precision control and phone battery life. By combining a world-class mobile game controller with an auxiliary phone charger, MOGA is offering consumers an incredible value. We expect it to be the hottest mobile accessory available this holiday season."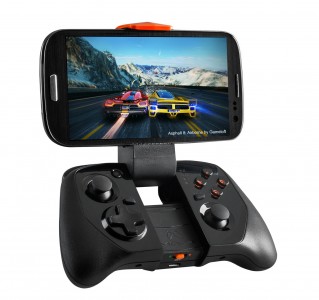 I think I'd have to agree as an actual, real, console-quality controller is something that plenty of iOS users have been looking for for a long time. The official list of software that's already on board for iOS 7 controller-comparability is impressive too with stuff like Call of Duty: Strike Team, Dead Trigger 2, Galaxy on Fire 2, LEGO The Lord of the Rings, King of Fighters and more all making use of the new capability.
The Ace Power simply connects to your iPhone 5 series phone via the lightning connector and then secures the phone in place (so there are no unfortunate 'accidents' while playing) with the MOGA Arm S.M.R.T. Lock. And as you can see, this is a fully-functional controller that's got not only face buttons, d-pad and dual thumbsticks, but also four shoulder buttons.
Not to be completely left out of all the fun, the Android versions of the controller have also gotten a bit of a refresh. Both the MOGA Hero Power and Pro Power have been redesigned and now feature the same S.M.R.T. Lock tech that the iPhone edition does as well as improved ergonomics and a better bluetooth radio for connectivity.
So basically, now that the two leaders in smartphone OS' are covered, MOGA is a pretty complete solution for whichever way you lean- be it iOS or Android. Both versions of the controller(s) are in stores now and if you'd like to read up a little more on the specs before you make your decision, click here.