No, the popular iPad case manufacturer isn't endangered themselves, but they're helping some animals that are.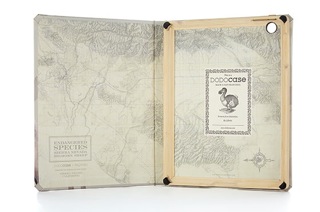 Alright so there's no denying that that case is pretty snazzy. You'd look like Indiana Jones toting around your iPad in that thing… if Indiana Jones had an iPad.
DODOcase melds its excellent (I have one, they're great) bookbound cases with conservationist flair with their new Endangered Species Collection. So now you can look cool and actually help out this troubled globe that we live on- what's better than that?
The collection is inspired by The Migrating Mural, a public art and conservation project launched by artist, science illustrator, and founder of Ink Dwell studio Jane Kim. Kim is the designer of DODOcase's signature logo – the DODObird – after which the company was named. The Migrating Mural is a series of murals depicting endangered animals along migration corridors they share with humans, with the goal of driving support and protection for species in peril. The first chapter of the Migrating Mural showcases the Sierra Nevada bighorn sheep through six murals along a 150-mile stretch of Highway 395 in the beautiful eastern Sierra mountain range.
And not only is the collection inspired by the Migrating Mural, but proceeds from the sales of the cases actually go towards protecting the Sierra Nevada bighorn sheep. The animal is becoming increasingly rare and both the Migrating Mural people and DODOcase don't want to see any further decline of them. It's a great cause and if you've been thinking of a swanky new DODOcase for your iPad, why not make it this one and actually help some living creatures make a comeback and thrive here in a country that should have more than enough land for them to do so.
The cases go on sale today and can be had for $125.00 USD each; you can grab one here.