A smattering of big time releases hit comic shops this week courtesy of Diamond Select including Marvel, Universal Monsters and a whole lot of Minimates.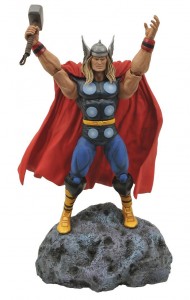 Minimates aside, the headliner in my opinion for the week has to that classic Thor Marvel Select figure. That's the Thunder God in all his glory, classic outfit, hammer raised up… and that sculpt on his face is pretty awesome. Maybe the best looking Thor I've seen immortalized in plastic.
Other that the Odinson, this week also sees the launch of the Thief of Thieves and Invincible Minimate sets, the Silver Surfer Marvel Select figure (which is also awesome and a LONG time coming) and some creatures of the night in the form of more Marvel Zombies and Universal's best classic beasties.
You can find all of the cool stuff below in the shops this week (and more than likely, today).
Invincible Minimates Series 1 Box Set– From the mind of The Walking Dead creator Robert Kirkman and Skybound Entertainment comes one of the greatest superhero sagas ever told! Telling the story of a half-alien hero living in the shadow of his famous father, Invincible recently passed its 100th issue, and DST is commemorating the occasion with a set of Minimates! Invincible, Atom Eve, Omni-Man and Allen the Alien are in this set, and each Minimate stands 2 inches tall with 14 points of articulation. Designed and sculpted by Art Asylum! (Item #JUN131795, SRP: $19.99)
Thief of Thieves Minimates Box Set– The newest comic book series from creator Robert Kirkman is now the newest Minimates set from DST! Main characters Redmond, Celia, Cohen and Augustus make up the first four-pack, and each Minimate mini-figure stands 2 inches tall and includes a variety of interchangeable parts and accessories. Soon to be a television pilot on AMC! Designed and sculpted by Art Asylum! (Item #JUL131824, SRP: $19.99)
Marvel Select Silver Surfer Action Figure– The newest Marvel Select action figure from DST is the Surfer of the Spaceways himself, the Silver Surfer! Inspired by the classic appearance of the cosmic character, this 7-inch figure comes with his board, energy blasts and the Infinity Gauntlet, as well as a dynamic display base that allows him to ride on his board or pose with it! This highly requested character will be one of the fastest-selling Selects yet! Sculpted by Sam Greenwell! (Item #JUL131827, SRP: $24.99)
Marvel Select Classic Thor Action Figure– From the halls of Asgard and the pages of some of the greatest comic books ever written steps the mighty Thor! The hammer-wielding Avenger has returned to the Marvel Select line in his classic incarnation, as a fully articulated 7-inch action figure with 16 points of articulation! This Thor figure includes his hammer Mjolnir as well as an asteroid display base, all in the stylish Select packaging. Sculpted by Gabriel Marquez! (Item #OCT131850, SRP: $24.99)
Marvel Minimates Marvel Zombies Villains Box Set– The end of days must be upon us, because Marvel Zombies Minimates are back! Just in time for Halloween ComicFest, DST and Art Asylum have zombified four already-frightening villains of the Marvel Universe: the Red Skull, the Green Goblin, Magneto and Galactus! Each Minimate stands 2 inches tall with a variety of interchangeable and decomposing parts. Packaged in a full-color window box. Designed by Art Asylum! (Item #AUG132035, SRP: $19.99)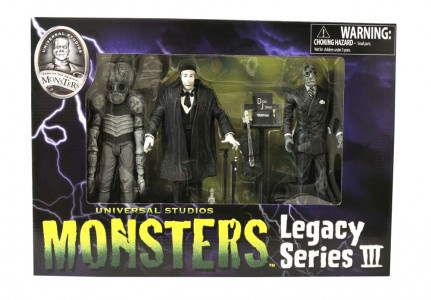 Universal Monsters Legacy Series 3 B&W Box Set– Between 1923 and 1958, Universal Studios released over 60 different monster movies, all in black-and-white, that gave the film world some of its most iconic characters. In honor of that legacy, this deluxe collectors' box set presents three of the most famous Universal Monsters — the Invisible Man, the Phantom of the Opera, and the Metaluna Mutant from This Island Earth– in their original-black and-white appearances! These exclusive 7-inch scale figures will only be available as part of this set, and come in a display-quality window box. Designed and Sculpted by Gabriel Marquez and Jean St. Jean! (Item #JUN131799, SRP: $50.00)
Universal Monsters Bride of Frankenstein B&W Bust Bank– The Bride of Frankenstein is back in black and white! DST has gone old-school and drained the color out of their 9-inch portrait of his Bride! With an all-new grayscale paint scheme based on the original black-and-white film, the Bride still features collectible-quality paint and sculpting, as well as a conveniently placed coin slot in back. Sculpted by Gabriel Marquez! (Item #MAY138199, SRP: $22.99)
Universal Monsters Wolfman B&W Bust Bank– What's black and white and furry all over? The Wolfman, of course! This highly detailed vinyl bank of one of the most famous movie monsters has just gotten a silver screen make-over, in lush grey tones to re-create the look of the Universal Studios film! With a coin slot in his back and an access door in the base, this 8-inch licensed portrait of Lon Chaney is now more screen-accurate than ever! Sculpted by Eli Livingston! (Item #MAY138200, SRP: $22.99)