What happens when a freak plane crash strands a bunch of indie game developers on a mysterious island? Probably nothing good… for them anyway.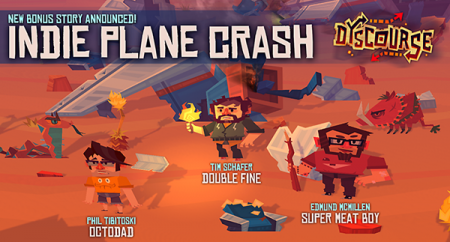 This has to be one of the coolest premises for a game this year. Developer Owlchemy Labs' has just announced a special add-on campaign for Dyscourse, their survival/adventure game that's currently looking for funding on Kickstarter. In the expansion, titled Indie Plane Crash, a group of independent game developers (including fan faves Schafer and Team Meat's Ed McMillen) crashes onto a deserted island.
Of course, and as you might expect, the 'team' really has no discernible skills that would help them in any way out in the wild. As Owlchemy says, they're "technically talented, but utterly useless in survival situations"- and I'm guessing that's where the hilarity is going to come from.
"They can code, but can they catch cod?" asked Owlchemy Chief Scientist Alex Schwartz. "This additional scenario will explore what happens when these stars of the indie scene have to sleep under the big sky, fighting the elements and potentially each other to survive until rescue."
The roster of who's in the game is pretty impressive too, with some legit stars of the indie gaming scene. Here's who you can sacrifice play as:
– Tim Schafer (Psychonauts, Broken Age / Double Fine)
– Edmund McMillen (Super Meat Boy / Team Meat)
– Phil Tibitoski (Octodad / Young Horses)
– Alexander Bruce (Antichamber / Independent)
– Ron Carmel (World of Goo / 2D Boy)
– Robin Hunicke (Journey, thatgamecompany / Funomena)
– Ichiro Lambe (Aaaaa! / Dejobaan Games)
– Adam Saltsman (Canabalt, Hundreds / Semi Secret Software)
– Will Stallwood (Auditorium / Cipher Prime)
– Rami Ismail (Super Crate Box, Ridiculous Fishing / Vlambeer)
Dyscourse honestly looks like a heck of a lot of fun all by itself and adding in a bunch of game industry players that fans know very well just adds to the coolness factor for the game. If you'd like to contribute and make sure that little, digital versions of some of your favorite devs get stranded on a mysterious island, click here to check out the campaign or contribute to it.