The publisher is banking on a very big hit indeed with the first team-up book in their stable, Unity.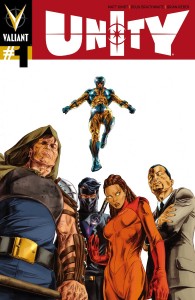 "Based on pre-orders alone, UNITY #1 has already outranked a slew of other recent success stories including East of West #1 Hawkeye #1, Lazarus #1, Manhattan Projects #1, Pretty Deadly #1, Saga #1, Satellite Sam #1, Sex Criminals #1, Ten Grand #1, Trillium #1, Velvet #1, The Wake #1, and the list goes on," said Valiant Sales Manager Atom! Freeman. "That's incredible company to keep, and all of us at Valiant would like to thank the fans and our retail partners for their confidence and support. UNITY #1 is a major milestone for us as a publisher and our biggest launch to date. This sales figure only affirms that big things are on the horizon for this series, and that Valiant isn't slowing down one iota."

"UNITY #1 could be our most important single issue to date, and we couldn't be happier with the sales and excitement leading up to its debut. Matt Kindt and Doug Braithwaite are delivering something truly magical with this series and issue #1 is a pitch perfect first step. It's innovative, powerful and brilliant – there's simply nothing like it on the stands today, " said CEO & Chief Creative Officer Dinesh Shamdasani. "Moreover, we've gone all out to ensure the series delivers to both fans and retailers. We've added returnability for issues #2 and #3, and have even bigger plans for the second arc of UNITY beginning with issue #5 next March. Keep your eyes peeled – we've even included a top secret teaser of things to come at the end of the first issue."
There's little doubt that Unity is an important book. The first issue marks the first time that existing characters in the Valiant Universe will be appearing together and completely outside of their own comics' pages. I think it's more than fair to say that all of the featured players are already fan favorites too, so it'll be interesting to see how many of their readers (from their solo books) carry over in the Unity series.
Beyond that, it's also a big deal for comics in general as a team book with an A+ roster isn't something that you see launch every day. When you think of the biggies in the industry, there are the Avengers and the Justice League and that's about it as far as long running comics starring solo characters teamed together. Sure there've been tons of others (and no, I'm not counting the X-Men here since they're a unit), but they usually don't hang around as long as the big two.
Valiant is as popular as it's ever been though and I'm thinking that the publisher giving fans what they want with a big, explosive, super-powered free-for-all every month could seriously work out just fine. With a monster 68,500 copies on the way to comics shops across the nation, Valiant obviously feels the same.
So confident is the publisher, that issues #2 and #3 of the series will be 100% returnable for retailers who either match or exceed half of their orders for issue #1. That's a big deal. Also a big deal is that issue #1 will have a first printing and no other. Valiant has officially announced that Unity #1 will see presses but once and never again. So if you want one, get it when it releases or pay a handsome price for it on the secondary market.
As for when you'll be seeing that first issue, Unity #1 lands on shelves on November 13th with a plethora of variant covers. Here's your official list if you'd like to plan as well as the release dates and credits for the second and third issues.
UNITY #1
Written by MATT KINDT
Art & Cover by DOUG BRAITHWAITE (SEP131344)
Pullbox Exclusive Variant by BRYAN HITCH (SEP131346)
Pullbox Exclusive Variant by J.G. JONES (SEP131345)
Pullbox Exclusive Variant by TRAVEL FOREMAN (SEP131349)
Pullbox Exclusive Variant by PAOLO RIVERA (SEP131347)
Pullbox Exclusive Variant by CLAYTON CRAIN (SEP131348)
Valiant 8-Bit Evolution Variant by DONOVAN SANTIAGO (SEP131350)
Team USA Luge Variant by DIEGO BERNARD (SEP131352)
Valiant Signature Series Variant by BART SEARS (SEP131353)
Variant Cover by NEAL ADAMS (SEP131354)
B&W Sketch Variant by NEAL ADAMS (SEP131355)
Blank Variant also available (SEP131351)
$3.99/T+/40 pgs.
ON SALE 11/13/13 (FOC – 10/21/13)
X-O MANOWAR #19 (UNITY TIE-IN)
Written by ROBERT VENDITTI
Art by CARY NORD
Cover by CLAYTON CRAIN (SEP131356)
Pullbox Exclusive Variant by MIGUEL SEPULVEDA (SEP131357)
Variant Cover by BART SEARS (SEP131358)
$3.99/T+/32 pgs.
ON SALE 11/20/13 (FOC – 10/28/13)
UNITY #2
Written by MATT KINDT
Art & Cover by DOUG BRAITHWAITE (OCT131342)
Variant Cover by TRAVEL FOREMAN (OCT131343)
Variant Cover by CARY NORD (OCT131344)
B&W Sketch Variant by DOUG BRAITHWAITE (SEP138204)
$3.99/T+/32 pgs.
ON SALE 11/20/13 (FOC – 10/28/13)
UNITY #3
Written by MATT KINDT
Art & Cover by DOUG BRAITHWAITE (NOV131283)
Variant Cover by J.G. JONES (NOV131284)
Variant Cover by SHANE DAVIS (NOV131285)
B&W Sketch Variant by DOUG BRAITHWAITE (SEP138205)
$3.99/T+/32 pgs.