One of the biggest brands in the world for kids (and plenty of adults) since 1996, you better believe there are some Pokemon toys landing at retail for the latest game release.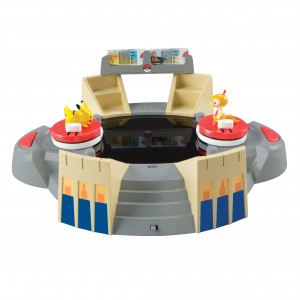 The newest games in the series for the Nintendo 3DS, Pokemon X & Y, are proving just as popular as their forebears and longtime toy maker TOMY has a whole new toy line in stores for fans to catch. Hitting stores right now is stuff like the Battle Arena, some Poke balls and of course- plushies of some of the pocket monsters themselves. Probably the coolest thing on the list for fans though is that talking Pikachu who, with motion activation and 9 different phrases, sounds like an awesome addition to the old game shelf.
Tomy makes some cool stuff in general. I have a huge soft-spot for the company going way back into the '80s and their awesome Zoids line, which I ate up with a spoon. I think they used to eat up my G.I. Joes pretty regularly too now that I think about it…
Anyway, here's the official lineup as far as Pokemon is concerned. Get your wallets warmed up:
Pokémon™ Battle Arena™- A NEW generation of Pokémon toys inspired by the much-anticipated release of Pokémon X and Pokémon Y video games has arrived. The Pokémon Battle Arena is the perfect platform for battling your Pokémon. This action-packed play set includes one electronic battle arena, two battle shields, three 2" Pokémon figures, and three Attack Tags. Play against the computer or battle against a fellow Pokémon trainer. Once you select a Pokémon figure and appropriate type, watch as the battle attacks illuminate the full color LED display and the dynamic sounds bring the epic battle to life. Your knowledge of the Pokémon, combined with your timely attacks and defenses, will determine who wins the battle. Are you the best Pokémon Trainer?
Catch 'n' Return™ Poké Ball™- Catch Pokémon like a Pokémon Trainer with the Catch 'n' Return Poké Ball! Put a Pokémon figure on the stand, pull back the Poké Ball, aim, and release! Make a successful catch and the Poké Ball will come right back to you. Once you've caught your Pokémon, the Poké Ball pops open with the push of a button so you can send your new Pokémon into battle.
Clip 'n' Carry™ Poké Ball™- Trainers are always ready for a Pokémon battle with this three-item pack! Each pack contains a detailed 2" figure, Poké Ball with belt clip, and an Attack Tag. Clip on the Poké Ball for easy access and portability—it pops open with the push of a button and can hold one Pokémon figure inside. Place your Pokémon figure on the Attack Tag to bring the battle play to life.
18" Large Plush- A NEW generation of Pokémon toys inspired by the much-anticipated release of Pokémon X and Pokémon Y video games has arrived. Pikachu, Chespin, Fennekin, and Froakie are soft, cuddly plush that stand 18" inches tall—almost as big as the "real" thing! Machine washable for easy care.
Pikachu™ Talking Plush™– Pika, Pika, Pika! This soft Pikachu speaks 9 iconic phrases with motion activation. Move Pikachu up and down, side-to-side, shake or lay it down and you'll hear different phrases. Celebrate the most recognizable Pokémon character with this huggable Pikachu Talking Plush.
There are no firm release dates for the new stuff, but TOMY tells us that most of it should either be on shelves now at your local toy shop (which is probably Toys R Us) or on the way soon. All of it should be available for the Holiday Season though, so feel free to go forth and catch 'em all.