The digital-only Marvel book's third issue is out now for download.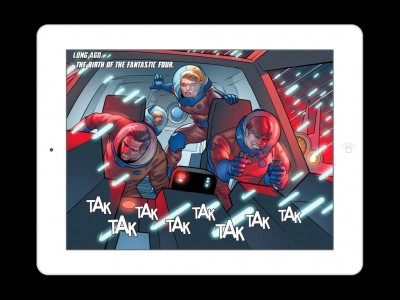 Tony Stark finds himself imprisoned in his deadliest trap yet—The Moon itself—in Iron Man: Fatal Frontier #3! Brought to you by comic superstars Kieron Gillen, Al Ewing and Lan Medina, Iron Man: Fatal Frontier brings Infinite Comics to their next startling level! Trapped without his armor or a prayer, Iron Man is left exposed to the brutalities of space! With oxygen in short supply, can Iron Man survive outer space and the Udarnik's cosmic machinations? Designed specifically for mobile devices while fully embracing the technologies of tomorrow, Marvel's follow-up to WOLVERINE: JAPAN'S MOST WANTED brings digital comics to life like never before! Accessible for new fans, but also set in current continuity with ramifications in Kieron Gillen's IRON MAN, IRON MAN: FATAL FRONTIER upgrades the storytelling possibilities that make Infinite Comics so exciting.
If you haven't been paying attention to Marvel's Infinite Comics line of digital-only reads, then you might want to start. The line, which so far has included the just wrapped Wolverine: Japan's Most Wanted and the book you see here, doesn't have physical comics to pair with- these are straight-up, digital-only comic books starring some of the biggest characters in Marvel. Even cooler is that they matter to the Marvel Comics U on the whole.
Both Wolverine: Japan's Most Wanted and Iron Man: Fatal Frontier take place in cannon and have real lasting repercussions for the characters going forward. It's cool stuff and some cutting edge storytelling.
Issue three of Iron Man: Fatal Frontier is out right now on either the Marvel App or the online storefront.