The GameStop Black Friday ad is out there in open now and our buddies at DealNews have broken down what you can expect to see as well as the highs and lows of what's to come for the day after Thanksgiving and the unofficial start of the Holiday shopping season.
By Marcy Bonebright, DealNews Features Writer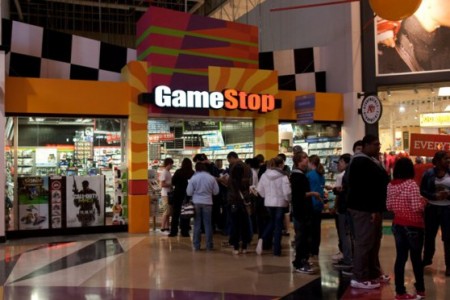 Now that the entire 2013 GameStop Black Friday ad has been leaked, gamers have their first glimpse at how the holiday's video game deals are shaping up.
Below, we've highlighted some of the ad's more notable deals, but it's worth pointing out that the GameStop Black Friday ad emphasizes that only select stores will open on Black Friday. So, if you're hoping to get your hands on a shiny new PlayStation 4 or Xbox One, make sure that your local GameStop is participating in special Black Friday store hours before you brave the cold. Also, keep in mind that some deals will be exclusive to Black Friday only, and won't last through the weekend; those deals are marked as such below. Now, onto the deals!
GameStop Black Friday Ad Analysis
PlayStation 4 500GB Console for $400, Xbox One for … ?
In this year's Black Friday video game predictions, we stated the unlikelihood of seeing a PlayStation 4 for less than list price, and this ad confirms it. We also predicted that simply finding a next-gen console to buy on Black Friday would be difficult, and that's confirmed by the fact that this season's other hot new console, the Xbox One, doesn't even have a price listed in the ad. Instead, the ad suggests that shoppers call their local GameStop to check for availability. (For what it's worth, you can currently preorder the Xbox One from Amazon for $500 with delivery by December 31. We couldn't find a single merchant that had the PS4 available for preorder at any price.) If you must have one of these consoles, show up early and you might get lucky.
Games for PS4 and Xbox One for $60 Each
GameStop keeps the next-gen disappointments rolling by offering a limited selection of new titles for both consoles at list price. We still think that these games will be included in future Black Friday "buy one, get one 50% off" promotions and the like, so we recommend resisting the urge to pay full price for these titles. Some of the games that will be available for PS4 are DriveClub and Knack, while Xbox One titles will include Forza Motorsports 5, Dead Rising 3, and Ryse: Son of Rome.
Nintendo Wii U 32GB Deluxe Console for $300
Although we didn't expect to see much in the way of deals on the Wii U 32GB console, this offer is a far cry from any definition of a deal. Not only did we see this console bundled with a $50 Fry's gift card for the same price three days ago, but $300 isn't even the current price low. We found at least two other merchants offering the Wii U for $298. It goes without saying that you should skip this offer.
Nintendo 3DS XL with Legend of Zelda: A Link Between Worlds for $220
This bundle looks pretty awesome at first glance; it includes a hotly anticipated game from one of Nintendo's most popular franchises bundled with a handheld console that's a perennial favorite on many holiday wish lists. Although preorders of the game will set you back $37 and the Nintendo 3DS XL goes for $198 in any color, we saw the 3DS XL for $160 in March. If you're not overly concerned with having the limited edition Gold console, you may do better to purchase these items separately.
The Elder Scrolls Anthology for PC for $40
Even diehard Elder Scrolls fans have had trouble experiencing the earliest games in this series (which require a DOS emulator to run). If you've been hesitant to pick up the full catalog of games before now, feel free to bite at this price, as it's the lowest we could find by at least $10; most merchants charge $76 or more!
Diablo III for PS3 or Xbox 360 for $40
Released in September, this console version of Blizzard's wildly successful PC dungeon crawler could be another popular gifting choice. We have previously listed it for $45; this is the lowest price we could currently find for either platform by at least $10.
Buy 2 Used Items, Get 1 for Free
Although the GameStop Black Friday ad isn't clear about what's excluded from this offer, it's still one of the best pre-owned promotions we've seen from GameStop in a long time. We typically see discounts on only used games, but this offer appears to include games, accessories, and even consoles, making it the most inclusive sale we've seen on pre-owned items from GameStop.
Black Friday-Only GameStop Deals
PlayStation Plus 1-Year Membership Card for $30
Only available on Black Friday, this deal for a 1-year subscription to PlayStation Plus is pretty outstanding. Not only is it the best price we could find now by $20, but it's also the lowest price we've ever seen by $10. If you've ever thought about signing up for this premium service, which offers access to free and reduced-price games, this is one deal you should definitely bag.
Skylanders SWAP Force for PS3, Xbox 360, Nintendo Wii, or 3DS for $50
In another Black Friday-only offering, GameStop steps up its game with the one starter pack that's guaranteed to be super popular this year. We've essentially only seen this Skylanders SWAP Force pack at list price previously, although for a brief time it was bundled with a $10 newegg gift card in August. Now, available for $50, it's $22 cheaper (for all platforms) than what other merchants are offering so far.
Sony 8GB Memory Card for PS Vita for $10
GameStop will continue to win over gamers with its Black Friday-only offerings thanks to this 8GB PS Vita memory card. It's not just a current price low by $10, it's also the best price we've ever seen by $5.
Sony Wireless Headset for PS3 for $80
Of course, there are several Black Friday-only "deals" in this ad that earn our ire. Case in point, we saw this PS3 headset for $12 less in March, and it's not even a current price low — we found it elsewhere for $75.
Related Stories
All in all, GameStop's Black Friday sales are FTW! The cheapest PlayStation Plus 1-year subscription we've ever seen and a great deal on Skylanders SWAP Force definitely make the DealNews cut. That said, if you're looking for awesome prices on PS4 or Xbox One games, or a deal on any console that isn't used, your Black Friday dollars could be better spent elsewhere.
What do you think, readers? Will you be at your local GameStop at 12:01 am on Black Friday, or will you get your holiday gaming fix elsewhere? Either way, be sure to check out our Black Friday deals page for all the latest news, ads, and predictions.
---
Marcy no longer spends her nights on the DealNews graveyard shift writing deals that are too hot to wait for sunrise. Now a full-time member of the Features team, she is responsible for covering consumer news, sale previews, and more.Follow 
@dealnews
 on Twitter for the latest roundups, price trend info, and stories. You can also sign up for an 
email alert
 for all DealNews features.
Editor – This story originally appeared on Dealnews.com. You can take a look at the original by clicking here.