Deus Ex gets augmented in the new Director's Cut edition that improves upon what's already a widely praised title.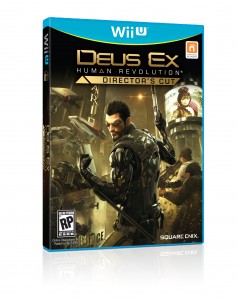 There's no denying that 'ultimate editions', 'complete editions' and the like are usually little more than collections of DLC packed in with the maine game for a lesser price tag than it held when it was released. In the case of Deus Ex: Human Revolution Director's Cut though, it's a little more than meets the eye.
"The Director's Cut is our opportunity to address and implement all of the amazing feedback we received from the community into our much loved Deus Ex: Human Revolution," said David Anfossi, Eidos-Montréal Head of Studio. "We're incredibly lucky to have such a passionate community and we hope that new and returning players alike enjoy what we consider to be the definitive version of Human Revolution."
Not only is the Missing Link DLC pack included with the game (and seamlessly integrated into the main storyline), but you'll also get Tong's Rescue Mission and all of the previously released incentive items and pre-order bonuses. Here's where things get different than what you'd usually expect.
On top of all that, Deus Ex's Boss fights (which were a bone of contention amongst even those who praised the game) have been redone. New maps and gameplay mechanics will support all three of the game's styles (action, stealth and hacking) and allow you to take on boss characters the way you want to – and in a manner that fits the way you play.
The rest of the game also has gotten a bit of an upgrade with a rebalanced energy system, as well as updated enemy A.I. and even a graphics bump. You'll also notice Wii U GamePad integration, which carries over to the PS3 and Xbox 360 editions of the game with PS Vita and SmartGlass support that actually becomes a visual representation of main character Adam Jensen's neural hub.
If that sounds like a lot of new for your buck, then you're on target. Eidos says that they want this to be the definitive version of the game and it looks like that just might be the case. Upgrade your specs, Deus Ex: Human Revolution Director's Cut launches on the PC, Xbox 360, PS3 and Wii U on October 25th.