The full season of DLC and then some is coming to the Ultimate Edition of the DC Comics fighter Injustice: Gods Among Us, along with portable and next-gen editions of the game.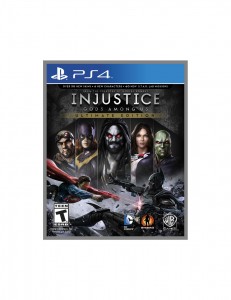 And by 'next-gen' I mean PS4. Warner Bros announced today that the popular fighter (in the form of the Ultimate Edition) will be returning to the PS3 and Xbox 360, as well as making its debut on the PS4, PC and PS Vita next month. Left out of the announcement was any sort of mention of Microsoft's Xbox One that's, much like the PS4, due out in November. I don't know if there's any kind of story to that or not, but it is a little odd.
Anyway, in terms of the game in question, Injustice: Gods Among Us Ultimate Edition will include all of the DLC that the standard version received over the year including $120.00 USD worth of extra stuff that last April's release didn't have.
The DLC included in Injustice: Gods Among Us Ultimate Edition, includes fan favorites Lobo, Batgirl, General Zod, Martian Manhunter, Zatanna, as well as Scorpion, a character from the Mortal Kombat world, as reimagined by Jim Lee, Co-Publisher at DC Entertainment. In addition, more than 40 extra character skins and 60 S.T.A.R. Labs Missions, originally offered as DLC, are now available from the start of the game. Also packaged with the Americas version of the game will be its music soundtrack featuring an exclusive track from Jane's Addiction titled "Another Soulmate" and 11 songs from popular artists ranging from Depeche Mode to AWOLNATION.
Both the PC edition and the PS4 version will be brought to audiences by developer High Voltage. Warner Bros promises that Injustice on PS4 has been remastered by the dev to fit the coming generation of PlayStation and will incorporate the console's controller-mounted Touchpad, as well as the much talked about game sharing feature so you can toot your own horn as much as you like.
As for the Vita version, that's been worked on by Armature Studios and will also have some new features to show off. Fans can expect new minigames with touch controls as well as all the trimmings that you'd expect from the home console and PC incarnations.
Injustice: Gods Among Us Ultimate Edition arrives in the US on November 12th and the rest of the world on the 29th.