Iron and steel (and presumably adamantium) clash in the tenth issue of the Infinite Comics landmark event, Wolverine: Japan's Most Wanted, today.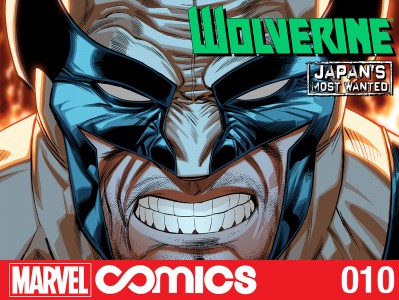 We've been following Japan's Most Wanted since the first issue of the weekly book and it's been quite the interesting ride so far. Wolverine has met and clashed with the Hand, Silver Samurai, Sunfire and (of course) Sabertooth, throughout the series from the creative team of Jason Aaron, Jason Latour, Paco Diaz, and Mike Del Mundo. As you can see from the character list, if you're a Wolvie fan you really shouldn't be missing this one.
The fight for the Hand's soul starts now! With Wolverine caught in the crossfire, The Silver Samurai and deadly Iron Hand begin their final, bloody coup for control of the deadly empire! Designed specifically for mobile devices while fully embracing the technologies of tomorrow, Marvel's offering its all-new weekly digital comic content in style.
This has been an interesting experiment thus far. With a story that's not only 'canon', but promises to have lasting repercussions on the X-Men universe on the whole, Japan's Most Wanted took a lot of chances. A storyline this big is rarely (if ever) done with a digital-only book and it looks like it's working out quite well with a mature story that's hitting all the right feral notes.
The tenth issue is available for download right now on the Marvel App or on the Marvel Digital Comics Shop.