If you missed out on some of the original Wii console's greatest, you're in luck.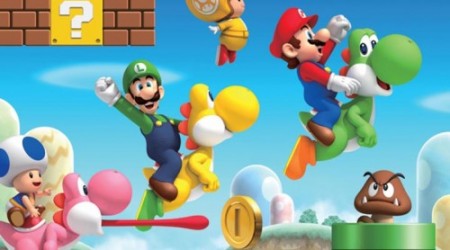 Nintendo has just lowered the official (new) price tag on three of the console's best loved games- Super Mario Galaxy 2, Wii Sports Resort and (my favorite) New Super Mario Bros Wii. All three titles now brandish the $29.99 price tag.
Super Mario Galaxy 2 is tied with Super Mario Galaxy as one of the best-reviewed games of all time, with a Metacritic score of 97. To date the game has sold more than 2.7 million in the United States alone. New Super Mario Bros. Wii has sold more than 9.4 million in the U.S. and Wii Sports Resort, the follow-up to the game that introduced motion controls to the world of gaming, has U.S. sales of nearly 7 million.
All three games have been pretty constant hits for the system (as you can see from the above numbers) and have pretty nice followings of fans already. The lower price tag offers a great opportunity to grab one if you missed it the first time around though- or even if you're just looking to fill in your Wii library since the console is well on the way towards the history books at this point.
Personally, while I liked the other two just fine, I can't recommend New Super Mario Bros Wii enough. If you like classic Mario gameplay, it shouldn't be missed. And at $29.99, why would you?
And while you're catching up on your Mario, why not have a peek at our review of his Brother's first starring role in New Super Luigi U?