Marvel Comics preps for 2014 with an all-new round of books.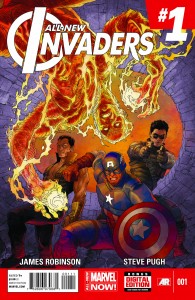 Not only does the current line of comics move forward into the New Year for 2014, but Marvel has a special .NOW series (think of them like 'point one' issues) that are designed as entry points for new readers.
The initiative starts up in December with Avengers #24.NOW (yep, that's the complete title) from Jonathan Hickman and Esad Ribic. Marvel promises bigger everything for this next round of books and even more clean entry points for new readers (which is always nice).
"All-New Marvel NOW! ushers in 2014 with bold new launches featuring the greatest characters, the greatest creators, and exciting storylines that provide clean entry-points to all ongoing series," explained Axel Alonso, Editor In Chief, Marvel Entertainment. "With new voices joining our creative chorus, and new heroes stepping into the spotlight, the Marvel Universe is about to expand in every way possible."
So what's on the blotter? Some very cool stuff, including one that I'm personally really looking forward to – All-New Invaders #1.
In Avengers #24.NOW(=Avengers #1 in All-New Marvel NOW!), the Avengers must reassemble like never before after the devastating events of Infinity. As a rogue planet hurtles towards Earth, only the mightier-than-ever Avengers can prevent the annihilation of two worlds! Prepare for a sense-shattering tale that sets the stage for 2014's boldest Avengers epics!
Then in January, All-New Marvel NOW! heads to the battlefront with All-New Invaders #1! From Eisner Award-Winning writer James Robinson (Starman, Earth 2) and red-hot artist Steve Pugh (Animal Man) comes a bold reimagining of your favorite Marvel Heroes. Brothers-in-arms Captain America, The Winter Soldier, Namor, and the Original Human Torch re-band for an all-new, all-different kind of war! But when the Kree Empire discovers a way to weaponize Norse Gods, can these timeless allies survive the deadly cosmic trenches? Find out as Marvel's most enduring icons take to the stars in All-New Invaders #1!
But the start of the new year only gets bolder, as All New Marvel NOW! asks, "Are You Inhuman?" with Inhuman #1! Superstar creators Matt Fraction (Hawkeye, Invincible Iron Man) and Joe Maduiera (Avenging Spider-Man, Savage Wolverine) thrust the Inhumans into the spotlight as the newest power players in the entire Marvel Universe! Unfolding out of the cataclysmic events of Infinity, new Inhumans spring up around the globe forcing the once-secret society of Inhumans out into civilization! With Avengers-level powers and abilities, will they chose to stand with Earth's Mightiest…or against them? As the chaos consumes the globe, discover the fate of King Black Bolt and his royal family as the world becomes Inhuman!
As usual, all of the new books come with codes that'll get you a free digital edition of the physical book. Not as usual, select editions will include codes that will get you "the entire first collection of that series ABSOLUTELY FREE!" Pretty cool that.
Be there or be square, when Marvel NOW! reloads this December.