Nordic Games and developer The Farm 51's Deadfall Adventures, based on the world of action novel hero Quartermain, is getting a pretty packed Collector's Edition loaded up with a tomb-full of digital goodies.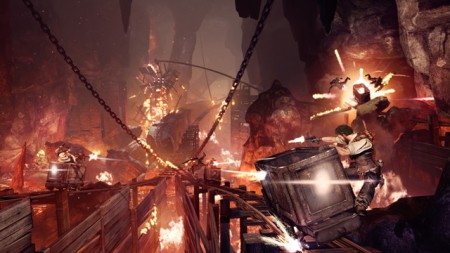 Deadfall Adventures looks like it might be a very pleasant surprise indeed. Based on the Quatermain tales of years ago, the title is a straight-up action/adventure filled with gunfights and treasure hunting aplenty. As a fan of Quatermain, I've been watching this one for a while and I like what I'm seeing for the most part.
"We are really excited to deliver such a unique title to gamers all around the world. We have been working very hard to make sure that stepping in the boots of an adventurer will be a fulfilling experience for every fan of the Lost World genre" comments Artur Falkowski, Game Producer at The Farm 51. "Deadfall Adventures is a game for shooters and puzzle-solvers. It's not just another story to finish – it's all about traveling the world, exploration and visiting places forgotten by time. Pyramids covered in sands, monumental temples carved into ice, and remote Mayan cities; all of this awaits you in Deadfall Adventures" Falkowski adds.
Even though I've got my interest piqued, I am more than a little surprised that Deadfall will be seeing a Collector's Edition. If anything, I suppose it speaks to the strength of the fanbase of the genre as the extras are aimed squarely at folks who like their action with more than a little bit of pulp.
The boxed/digital PC Collector's Edition will include:
The Game
DLC 1: the Allan Quatermain Revolver skin (single- and multiplayer)
DLC 2: 3 exclusive multiplayer skins (and they remain exclusive; Arab Mercenary, Arctic Quatermain and Skeleton)
Making of movie (DVD)
Original soundtrack (Audio CD)
Artbook (on disc)
Manual (printed)
The boxed Xbox 360 Collector's Edition will include (*):
The Game
Making of movie (DVD)
Original soundtrack (Audio CD)
Artbook (on disc)
Manual (printed)
The extras for both versions of the game are identical with the exception of the bits of DLC that'll be in the PC pack. That DLC might be available for the 360 as well, but as of now Nordic Games tells us that the timetable is a little on the uncertain side.
Either way you pick up Deadfall Adventures, you'll be getting by on the cheap. The standard edition of the game for Xbox 360 is $39.99 while the Collector's Edition is $49.99. As for the PC edition, if you grab Deadfall on Steam you'll be automatically upgraded to the CE. Not too shabby of a deal right there.
Deadfall Adventures raids the Xbox 360 and PC on November 15th.