The creepily titled horror sequel Amnesia: A Machine for Pigs is finally almost here and if you preorder the game now, you can get in on a pretty nice discount.
Amnesia: The Dark Descent is a favorite of many horror fans for the simple fact that it's all about  horror. That might sound silly, but most 'horror' games are action affairs with a spooky coat of paint and don't go too much further than that. Disturbing and genuinely scary they ain't; and that's not the case with Amnesia.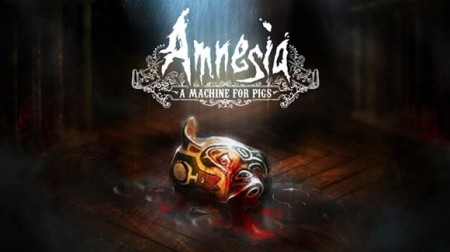 From the sound of A Machine for Pigs, that's a tradition that the game's sequel is going to keep going.
The year is 1899. Wealthy industrialist Oswald Mandus has returned home from a disastrous expedition to Mexico, which has ended in tragedy. Wracked by fever, haunted by dreams of a dark machine, he recovers consciousness in his own bed, with no idea of how much time has passed since his last memory. As he struggles to his feet, somewhere beneath him, an engine splutters, coughs, roars into life…
Unknown terrors in the dark and no weapons sounds like a horror experience that fans will lap up and with a description that reads "survival–horror at its most unsettling", this is probably one not to miss is you like the spooky stuff.
And with the discount that's just been announced, you probably don't have to. Frictional Games and developer The Chinese Room have announced a beefy (or should that read 'porky'?) 20% discount on the game if you pre-order now. You can order up right now at the following retailers for $15.99 (instead of the usual $19.99):
Steam
GOG
Humble Store
Gamefly
GamersGate
Desura
Mac Game Store
Get trapped in the world of Amnesia: A Machine for Pigs and just try and keep your sanity, when the game arrives on September 10th for the PC