We gave you a look at the UK CE for the upcoming Batman: Arkham Origins last week, but the North American version (also on the way to Austrailia and New Zealand) is a whole different Joker…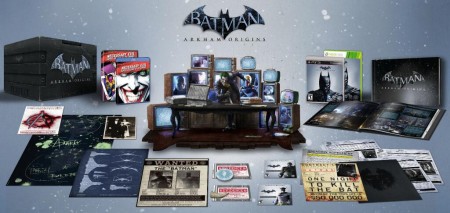 First off, there's way more stuff in this box than the UK version. In all, you get some pieces of evidence from the GCPD crime lab, an art book, assorted posters and schematics, a glow-in-the-dark map of Gotham City, the Necessary Evil documentary about DC's villains, pieces of downloadable content (including a 'first appearance' Batman), Black Mask's contract on the Dark Knight and bio's on all of the killers he's hired to take Batman down.
And then there's that statue.
The Joker was created by the fine folks at Project TriForce and looks like something that you'd find on display all by itself at your local comics shop. Standing in at 9″ x 13″ x 11.5″, the statue features Joker as he appears in the game, watching the 'festivities' from his cacophony of televisions – which all light-up via LED effects by the way.
Batman: Arkham Origins arrives on October 25th for the Xbox 360, PS3, Wii U and PC. The Collector's Edition will land right along side the standard version and will cost you $119.99 USD. Click here for the full rundown of what's in the box and preorder info.