The mobile version of NetherRealm's DC Comics title Injustice: Gods Among Us is getting a special challenge mode this month that'll reward players with a Gold Card of the Kryptonian despot.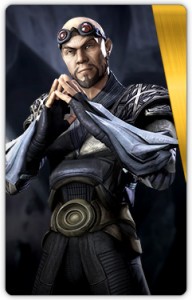 The General Zod Challenge will take place in the iOS version of Injustice from today (August 8th) through the 26th. The Challenge Mode tasks players with competing in "a time-sensitive series of battles" in which they can snag a Gold Character Card of the Superman villain.
If you're unfamiliar with the mobile Injustice, it's pretty much like the console version of the popular DC Comics fighter, but with gesture-based touch controls taking the place of the stick/pad and buttons. It actually plays really well and is a nice little companion to the main game. The iOS Injustice also unlocks content for its big brother and vice-versa, which is a cool touch and incentivizes play nicely.
Injustice: Gods Among Us for iOS is a free download and is available now on the App Store.