Artist and writer menton3 takes readers to a reality where mankind is being actively harvested by demons for their memories. Sounds like a real nightmare…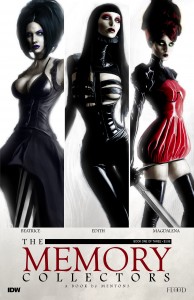 Of course, with cult favorite creator menton3 at the helm, it's anything but for fans of the Monocyte creator.
The book focuses on a trio of heroines who've uncovered the dark truth about humanity- that they've become cattle for demons who actively harvest their memories. And like any good heroine, they're going to have to put a stop to that.
Menton3 won't be stopping anytime soon though; The Memory Collectors creator has been rolling with covers for a bunch of publisher IDW's books including Infestation: Teenage Mutant Ninja Turtles, Mars Attacks and X-Files. On top of that, his Kickstarter campaign for his new book Lust has hit its goal and then some and his most recent effort Transfusion (with Steve Niles) has met with acclaim on both the critical and fan fronts.
"It's always an honor to work with IDW," says menton3. "I feel so incredibly lucky to have their help to put out a very different kind of story from me. Working on The Memory Collectors reminded me of why I wanted to make comics."

"Menton's blend of fine art and storytelling produce something completely unique," said series editor Denton J. Tipton, "He's a pleasure to work with, and every new page he turns in finds a new way to surprise me."
The Memory Collectors is number three in the creator-owned series' from menton3 for IDW and if the cover image above is anything to go by, it looks like it just might possess readers imaginations in a big way.