Marvel Comics' Deadpool takes his first starring role as High Moon Studios' crafts a game that's almost as insane as he is.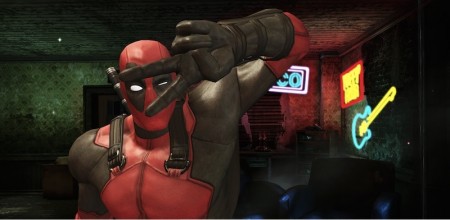 Deadpool has really shot up in popularity over the last ten years or so. You might not realize just how popular he's become, or that he's actually already been in a bunch of Marvel games, animation and even a movie. Yep, the merc with a mouth has been just about everywhere- except in a starring role.
And while the solo Deadpool feature film is still something that's in the neighborhood of what I'd call 'vaporous', the Deadpool game is most definitely a reality. Starring Wade Wilson himself (that's Deadpool folks), the game just released by High Moon Studios (of Transformers: Cybertron fame) takes players on a journey through the swiss cheese-like mind of the man in the red and black pajamas.
And I don't mean to make that sound like Deadpool is asleep in his apartment and he dreams the whole game by the way, but the entirety of the adventure plays out from DP's perspective… which basically means it's completely insane and loaded with more off the wall stuff than you can shake a Headpool at.
'Pool talks to himself (three different personalities), talks to you the player, 'knows' he's in a video game, has frequent delusions and revels in an insane amount of non sequiturs throughout. In short- it's tons of fun.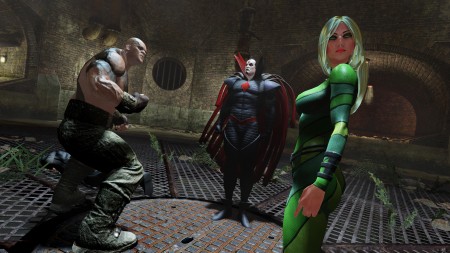 Wacky hijinks ensue when Wade is 'hired' to track down and capture a high profile target (he is a mercenary, remember?) by… somebody. On his way to meet his paycheck, he's cut off by longtime Marvel villain Mr.Sinister. Sinister is a super-creepy mutate (a mutated human- like Deadpool) and has been criminally underused in Marvel games as far as I'm concerned. He's a classic baddie and it's nice to see him get the main stage opposite Deadpool here.
Written by former comic series scribe Daniel Way, the main bulk of the plot revolves around Sinister and his base in the country of Genosha where he's cranking out X-clones and attempting to revive the souls of some very powerful mutants to harvest their DNA. The former mutant homeland is a particularly cool setting as it's been totally annihilated in an apocalyptic battle with Sentinels (big, mutant hunting robots). The massive bots' gigantic, rusting corpses litter the cityscape which makes for a really cool feel and you'll even get to use some of them in battle… well, in a way anyway.
From the looks standpoint, Deadpool is actually a pretty impressive title. There are some forgettable locales, don't get me wrong. The giant office building where the game starts and the sewer levels (which Deadpool even remarks about in the game) are nothing to write home about, but Genosha more than makes up for it. I know I mentioned it already, but the whole 'Sentinel graveyard' look that High Moon has crafted for Magneto's failed utopia is just excellent. As a big Marvel fan (and X-Men fan in particular) it was awesome to play through.
Wade himself looks pretty awesome too. Clad in his typical Deadpool 'uniform', Wade actually takes physical damage much in the same way that Logan did in X-Men Origins: Wolverine. As he's shot and chopped at, Deadpool loses not only scraps of his costume, but chunks of himself. As he's got basically the same healing ability as Wolvie, this isn't really an issue for 'pool, though it looks pretty awesome in action as you play.
Fans of the X-Men will find quite a bit to like in Deadpool too. Wolverine, Rogue, Cable and others all cameo at different points in the game and are all fairly well represented, though I was actually a little surprised at how limited the screen time was for them. In particular, I would have loved to have seen more of Cable. I mentioned Sinister being underutilized above, but Cable is a huge character in the X-universe and if anyone's deserving of a spin-off game, it'd be the man from the future.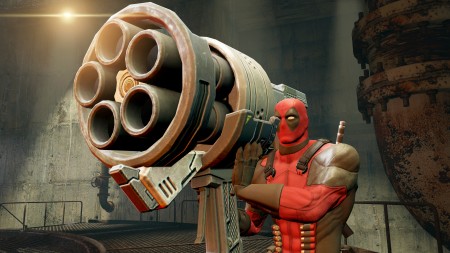 Still, this is a game about Deadpool, not Cable, and High Moon has captured his spirit as well as his particular set of skills really well. Controls are fairly simple in Deadpool, which is a good thing. You get both light and heavy close quarters attacks, ranged weaponry aplenty and Deadpool's trademarked teleporter to play with. The teleporting in particular is a great time as I used it as much as possible to wink behind enemies and out of situations where I was surrounded by foes.
I did have a slight problem with it in that the same button used to teleport also controls counter-attacks in a context-sensitive manner. It was way too easy to not hit the proper moment with a counter and teleport instead. Also slightly tricky is the targeting on the guns. Occasionally my firearms just wouldn't lock onto an enemy when I targeted them. This wasn't a usual issue, but did pop up from time to time. Neither complaint was a huge impediment though, and other than those minor gripes the controls are rock solid and gave me no troubles.
Script-wise, Deadpool is excellent. Way's work is funny, smart and well written throughout with a razor sharp wit that lampoons games as much as comics. It's honestly pretty rare to find a 'comedic' game at all, let alone one that's this well put together. Also not disappointing at all is the voice acting. Deadpool and his two other personalities sound fantastic across the board. Voiced by Nolan North, his banter rarely gets old even when it replays a few times throughout a level. Most of the supporting voice work is terrific as well with the slight exception of Cable, who doesn't come across as forceful as he probably should.
Final Thoughts
I enjoyed my time with Deadpool way more than I though I was going to.
I'm not really a fan of the character, which is not to say that I dislike Deadpool at all, it's just that I remember him more as the Rob Liefeld created mercenary that debuted way back in the early '90s (in the pages of New Mutants) than the wisecracking psychopath that he's become. Sure he was always a bit kooky, but now he's just flat out insane.
Like the character that it stars, Deadpool isn't perfect. It's a little on the short side, has occasional control issues and some ho-hum locations to play through. Also like the character it's based on though; Deadpool is action-packed, witty, and just flat-out funny. Maybe the most telling thing about it? The game has me wanting to pick up a few Deadpool graphic novels and see what I've been missing in recent years.
High Moon's Deadpool has me actually wanting to read more about its title character and that in and of itself speaks volumes.