The final issue of Valiant's first big crossover event brings on a fatal four-way that'll see H.A.R.D. Corps vs. Bloodshot vs. Toyo Harada vs. Peter Stanchek and the Renegades.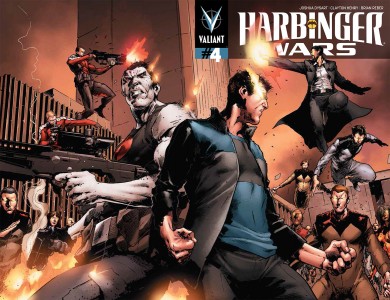 Four groups have come to capture the escaped test subjects of Project Rising Spirit – but only one can claim victory. Who will be left standing amidst the wreckage once called Las Vegas? Join the action here to find out why Harbinger Wars is the series that's being heralded as an "event done right" by critics far and wide. The summer's most acclaimed event storyline unleashes its oversized final chapter on July 17th, only in Harbinger Wars #4!
I've been a fan of Harbinger for a while, but I hadn't gotten in to Bloodshot really until Harbinger Wars took off; and man as I glad I did. Bloodshot has quickly become one of my favorite books and a monthly 'do not miss' since just before the crossover started. And it's not all because of the Harbinger cameos.
That's one of the best parts of big 'event' books though, introducing readers to characters that they hadn't had the chance to check out or maybe even normally wouldn't have been interested in. For me it's the former, and 'Shot has become one of my favorite characters on the racks as a result.
Harbinger Wars #4 arrives in stores on July 17th from Valiant Comics and the writing team of Joshua Dysart & Duane Swierczynski, with art by Clayton Henry, Pere Perez, & Mico Suayan. There's still a little bit of wrapping up after the main event concludes though, so don't forget to grab Harbinger #14 and Bloodshot #13 one week later – on July 24th.
In the meantime though, enjoy the preview: