Wolverines, yes, but not in the Red Dawn sense- no we're talking about a special four pack (that's actually more like a six pack) of Wolverine Minimates set for release at Comic Con.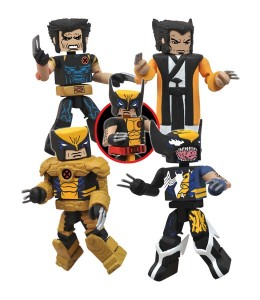 At one point in time, Wolverine had six million different comics releasing every month… okay so that might be a little fuzzy math there, but the bottom line is that he's popular. Very popular. Year in and year out, Logan is at the top of Marvel Comics fans' favorites lists and there's no sign of his fame dying down any time soon.
Likewise, Diamond Select's Minimates toy line is a perennial winner- an you know what happens when you mix two great tastes together don't you? Yep, that's right; the SDCC exclusive Wolverine Saga Box Set. This pack includes four different versions of Wolvie and a pair of variant looks that you can put together by swapping some parts.
Now titled "Wolverine Saga," the box set includes four different Minimates spotlighting different moments in Wolverine's life. Symbiote Wolverine depicts the New Avenger when he was possessed by a Venom clone, Spacesuit Wolverine shows him in his frequently utilized space armor, Ultimate Wolverine is his well-known Ultimate Universe counterpart and Logan-san in Japanese Robes shows him circa his engagement to Mariko Yashida.
Not listed here is that you can also remove the 'space armor' from that version of the character to reveal Wolverine in his current X-Men costume and there's a swappable torso for Logan in his robes for a shirtless look. All in all, that's a half dozen Wolverines for the price of four.
The Wolverine Saga four pack will be available at the Diamond Select Booth #2607 on the show floor during the San Diego Comic Con. Each set will cost you $20.00 USD.